About Us
The American Civil Liberties Union (ACLU) works to promote the cause of civil liberties among the students and faculty at Chicago-Kent chapter and to take such action to further this purpose as is consistent with with policies of the ACLU of Illinois.
The ACLU-CK chapter sponsors speakers, events, and panels while also engaging in volunteer work to give back to the community.
Latest Events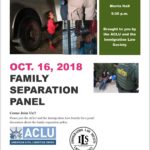 Date: Oct 18, 2018
Time: 5:30 to 7:30
Venue: 10th Floor - Morris Hall
Hundreds of children remain separated from their parents and thousands of children remain incarcerated by ICE. Come learn about the current state of family separation and what we can do to help the families impacted.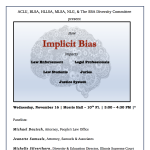 Date: Nov 16, 2016
Time: 3:00 pm to 4:30 pm
Speakers: Michael Deutsch, Jeanette Samuels, Michelle Silverthorn, Margot Klein
The ACLU along with BLSA, HLLSA, NLG, MLSA, and the SBA diversity committee will be hosting a panel on Wednesday, November 16th from 3:00-4:30 PM on how implicit bias impacts the justice system, law students, juries, and law students. We have a great panel lined up and a reception will follow. Please see the attached […]
Date: Nov 01, 2016
Time: 12:00 PM
Speakers: Michael Scodro, Colleen Connell, Anthony Kreis
Come join the ACLU and the American Constitution Society Tuesday, November 1st, at noon, for a panel preview of the upcoming term. As always, food will be served. Panel participants include: Illinois Solicitor General Michael Scodro, Executive Director of ACLU-IL Colleen Connell, and Professor of Law Anthony Kreis. Cases discussed include: Manuel v. Joliet, Hernandez […]
Latest News
An organization to promote the cause of civil liberties amongst the students, faculty, and staff at Chicago-Kent, and to take such action to further this purpose as is consistent with the policies and regulations of the American Civil Liberties Union of Illinois.