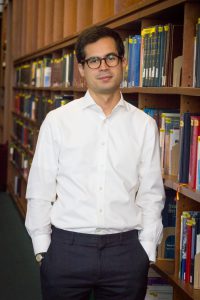 Public Relations Coordinator
2017-2018
Graduation Year : 2019
Javier began his involvement with ACS during the second semester of his first year while seeking exposure to new and exciting areas of the law. Now in his second year with the organization, as Director of Diversity, he looks forward to expanding ACS's reach to new topics to make the organization that much more relevant on campus.
In addition, Javier is highly involved with other activities at school. He's a member of the Moot Court Honor Society, Associate Editor for the Journal of Intellectual Law, and Treasurer for the Hispanic and Latino Law Student Association. Moreover, he spends time volunteering at the Self Help Web Center explaining how to complete paperwork to pro se litigants.
A Cuban native, Javier graduated from Florida State University with a degree in Art History and Economics. He is passionate about art and plants; spending the little leisure time law school affords volunteering at the Garfield Conservatory in their general horticulture program.