BLSA 2nd Annual Donation Drive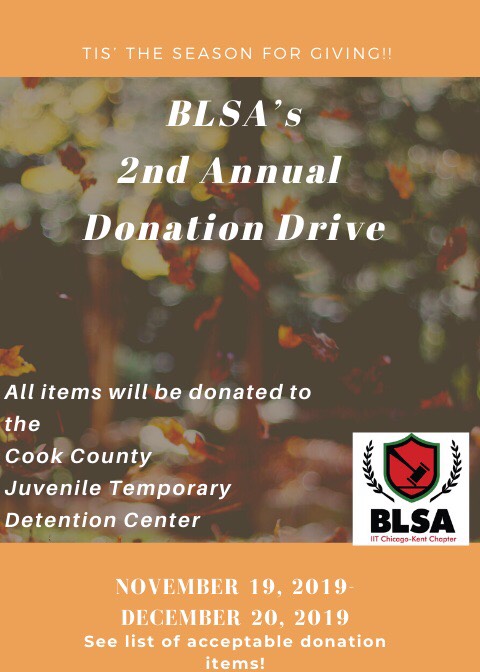 Date: Nov 19, 2019 to Dec 20, 2019
Venue : Lobby by Security Desk
BLSA is hosting its second annual donation drive for the Cook County Juvenile Detention Center from November 19 to December 20. Attached is a list of acceptable items. There will be a donation box placed next to the security desk.
We are also accepting winter items (new or gently used coats, scarfs, hats, and gloves) to be distributed to local shelters.
Acceptable Items:
Questions? Contact Cristina McNeiley.
Art Supplies (like water based paints)
Books (appropriate in nature)
Clothing

Thermal tops & bottoms
ankle socks

Christmas Trees
Electronics

Radio (small portable handheld, no antenna)
Boombox
Headphones
Batteries (AAA and AA)
Music on CD (no explicit lyrics, appropriate content)
PG Movies
Remote control trucks/cars

Games

Playing cards
Uno
Educational games
Basketballs (regulation size or mini)
Dominos
Puzzles
3D Puzzles
XBox 360 Games
Board Games
Legos

Hygiene items

Deodorant (travel size)
Lip Balm
Lotions
Soap (liquid only)
Toothpaste

Journals
Flyers: