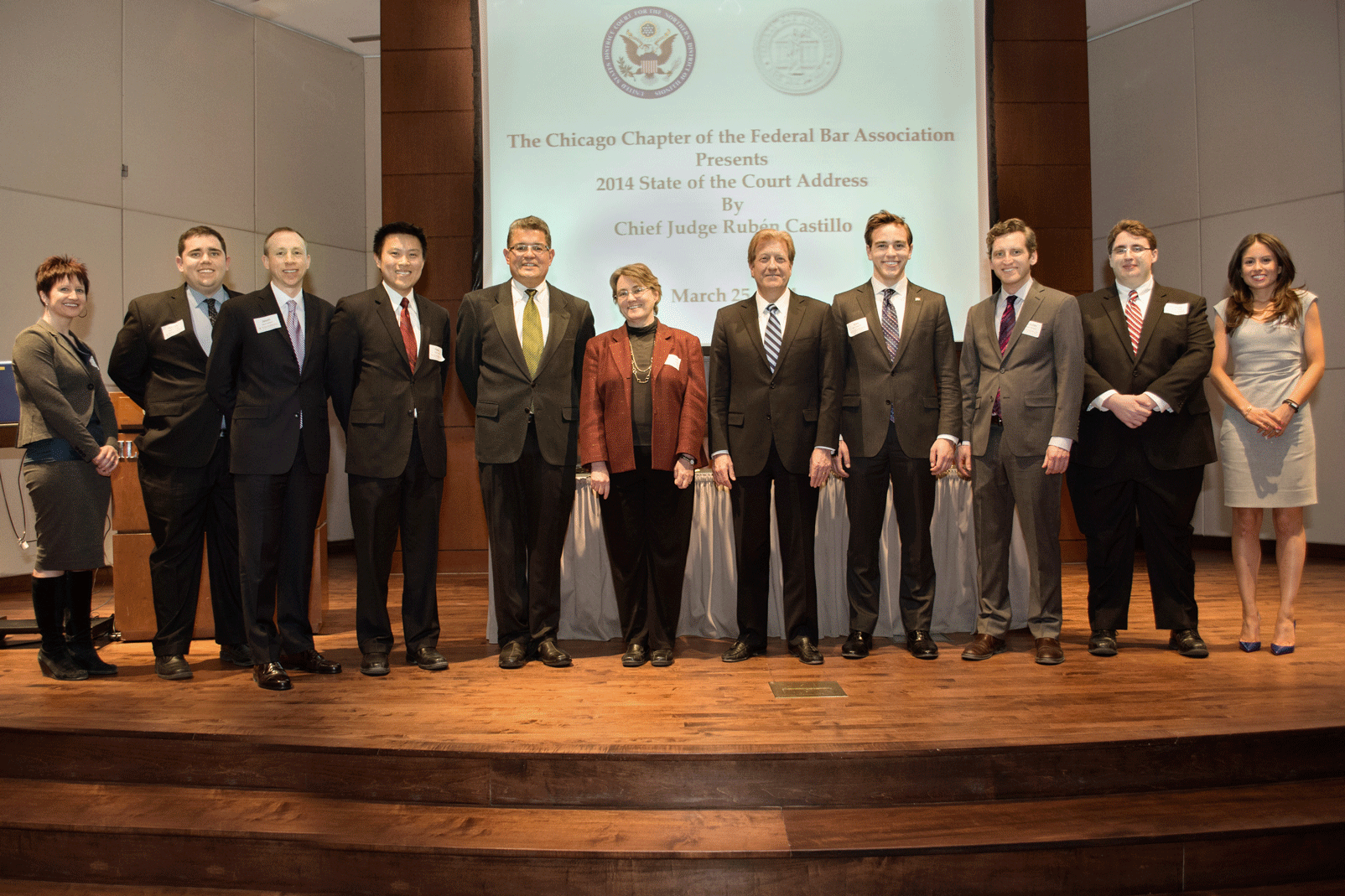 What do technological growth, increased tourism, and a rising gross regional production in the third largest metropolitan economy in the U.S. have in common? They are all issues Chief Judge Ruben Castillo of the U.S. District Court for the Northern District of Illinois and Corporation Counsel Stephen Patton of the City of Chicago addressed Tuesday, March 25, 2014, at the "State of the Court, State of the City" presentation. The brand new Federal Bar Association Chicago-Kent College Student Division and the FBA Chicago Chapter hosted the event at Chicago-Kent College of Law. The energy and enthusiasm in the Governor Richard B. Ogilvie Auditorium was palpable.
The event kicked off with Mr. Patton expressing excitement about the progress the City of Chicago is experiencing. Mr. Patton reports that all the key economic indicators are moving in the right direction: home sales are growing, residential building permits are up more than 25%, and foreclosure filings are down. Indicating strong economic growth, Chicago's 2013 Gross Regional Product was $585 billion, a 2.6% increase from last year. Tourism has exceeded previous goals so rapidly that the City's new goal is to increase the number of visitors to 55 million by 2020, which would mean 175,000 jobs and $1.5 billion in tax revenues. The Education sector is experiencing equally exciting growth, with the City creating five new STEM schools, launching the "Colleges to Careers" program, instituting 18 new IB programs, and implementing the longer school day all while continuing to invest in neighborhood schools! Another major highlight is Chicago's technology industry, which is the fastest growing sector of the economy. The Economist recently hailed Chicago as the "Start-Up City" with a new start-up company launched on average every 24 hours. Finally, with a strong emphasis on police, prevention, penalties, and parenting, the murder rate in Chicago is the lowest it has ever been since 1965 and the overall crime rate is the lowest it has been since 1972! These decreased crime rates are thanks in part to the City's emphasis on pre-K and after school programs as well as a dedication of resources to address needs of young people who live in neighborhoods where the attraction to criminal lifestyle is great. 
All of this growth and progress does not come without its share of challenges. Mr. Patton recognized the City is facing a fiscal challenge due to a structural budget gap. However, this deficit is getting smaller each year and the City saved $150 million by cutting positions. Another significant concern is the unfunded pension liability. There are four funds that currently are only 36% funded meaning that retirees face a very real concern that they will not be paid pension they have been promised. Mr. Patton assures us that this is a solvable problem, but it requires shared sacrifice on part of retirees and taxpayers.
Finally, Mr. Patton turned to matters concerning the City of Chicago Department of Law. Since 2011, Mr. Patton has supervised the City's 450-person Law Department. Currently, the Law Department is focused on reducing the City's legal cost. The Law Department is tackling this issue through early assessment of cases, risk management, and handling more cases in-house.
Next up, Chief Judge Ruben Castillo addressed the audience on the State of the Court. The Chief Judge indicated that the Court is facing budgetary issues including a 24% reduction in staff and a 16-day government shutdown this past fall. Luckily, the current budget rose 60% since 2013, but is still low. New key personnel changes including the appointment of Chief Judge Diane Wood to the U.S. Court of Appeals for the Seventh Circuit in October, as well as the additions of District Judges and Magistrate Judges, have positively affected the overall state of the Court. Intellectual property case filings are up 44% echoing the exciting technology boom Mr. Patton mentioned earlier. Also interesting, an increase in criminal bench trials by 57% is a testament that clients truly trust judges to resolve criminal cases dealing with the potential loss of liberty.
However, housing inmates at the Metropolitan Correctional Center continues to present a challenge. The Chief Judge pointed out that the Brooklyn Federal Metropolitan Detention Center, which covers only three New York City boroughs, has 2,000 beds when Chicago's MCC has only 800 beds. This discrepancy is woefully inadequate when trying to accommodate over 1,000 criminal cases a year. There is simply no space, and thus forces the City to house inmates in outlying areas leading to higher costs and delays.
With regards to courtroom technology, Chief Judge Castillo indicated that installing state of the art evidence presentation systems means reduced costs for jury trials.
One of the key initiatives the Chief Judge is most proud of is the meaningful James B. Moran Second Chance Re-entry Program, which helps ex-convicts get their lives back on track. Through a collaborative effort involving every component of the criminal justice system, former federal prisoners are able to successfully re-enter society. Unfortunately, the Chief Judge believes that many employers may be skeptical of hiring former federal prisoners and indicates that it is difficult to persuade employers to give ex-convicts a chance. However, he is adamant that "these individuals will go through a brick wall for you if you employ them. A second chance is something that everyone in the United States should have." The presentation concluded with a very moving video clip of Mario Carroll, a 2013 graduate, expressing his sheer gratitude for the Second Chance Re-Entry Program, in which he indicates that the program "meant I was worth saving."
After the presentation, attendees gathered in the lobby where they enjoyed delicious refreshments and an opportunity to network. With approximately 125 lawyers, judges, law professors, and students in attendance, this event was truly a great success.
Be sure to check out the upcoming FBA Chicago Chapter events: On April 10, there will be the James B. Moran Membership Appreciation Event featuring clips from "Anatomy of a Murder." Chief Judge Ruben Castillo and Magistrate Judge Jeffrey Cole will also speak about the film and its insights into the legal profession. On May 8, the FBA Chicago Chapter will be hosting a program to commemorate the 50th anniversary of the Civil Rights Act of 1964.
Thanks again to everyone who came to State of the Court! Don't forget to check back here again for more FBA Chicago-Kent updates, and don't forget to like us on Facebook and follow us on Twitter @FBAChicagoKent.