Date: Mar 02, 2017
Timing: 6:00 pm to 9:00 pm
Speakers : Maria Valdez
Venue : Auditorium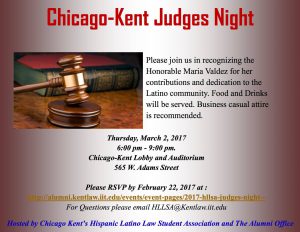 Mingle with Chicago-Kent alumni and students as well as Hispanic and Latino attorneys from throughout Chicago at a reception honoring the Honorable Maria Valdez for her contributions to the Latino community and the advancement of Latinos in the legal profession.
The evening begins at 6 p.m. with networking over drinks and heavy hors d'oeuvres, followed by a ceremony for Judge Valdez at 7:15 p.m.
The Chicago-Kent Hispanic-Latino Law Students Association was founded in 1982. HLLSA actively seeks to increase opportunities for Hispanic students to attend law school, provide necessary support for their academic success, and assist students in becoming acclimated to the law school environment.
Photos: