Tefere Gebre, executive vice president of the AFL-CIO, will discuss "Changing the Rules to Create Shared Prosperity" March 10 at Chicago-Kent College of Law's 11th Distinguished Labor Leader Lecture.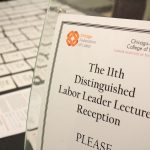 The program is free and open to the public, but attendees are asked to register by March 7 at www.kentlaw.iit.edu/dlll.
The lecture begins at 3 p.m. in the law school's Richard B. Ogilvie Auditorium, 565 West Adams St. (between Clinton and Jefferson streets) in Chicago.