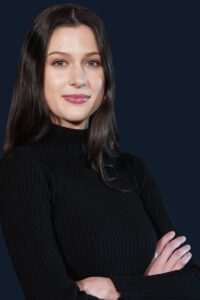 3L Rep
2022-2023
M.E. is a third-year law student pursuing a J.D. with a Praxis certificate at Chicago-Kent. She is a graduate of Chapman University with a BA in Political Science. She also received her AA in Merchandise Marketing from the Fashion Institute of Design and Merchandising.
In addition to being the 3L Rep for SALDF, M.E. is an Associate Research Editor for the Journal of Environment and Energy Law as well as the Publicity Chair for the Executive Board for the Environmental Law Society.
M.E.'s  goal after receiving her J.D. is to work in securities law. She is passionate about the environment and animals, and enjoys practicing sustainable and nontoxic practices in her daily life. She is excited to be a part of the 2022-2023 SALDF Board and looking forward to the year ahead!