About Us
The Sports and Entertainment Law Society (SELS) seeks to provide opportunities for students to learn about the many concentrations that make up sports and entertainment law.
SELS shall accomplish this mission by hosting informational panels and speaker events, maintaining a website of relevant and helpful information regarding sports and entertainment topics, fostering a community for those interested in sports and entertainment law, and generally developing students' passion for, and interest in, sports and entertainment law.
Latest Events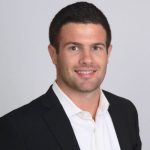 Date: Sep 12, 2018
Time: 12:00 pm to 1:00 pm
Speakers: Steve Bertholomey
Venue: 170
Steve Bertholomey, Chicago-Kent Alumni Class of 2015, will be here to talk about his path to becoming a Player Agent, working with Major League Baseball players and the in's and out's of being a Player Agent! Some of his clients include: Miguel Cabrera, MLB Detroit Tigers DaMarcus Cousins, NBA Golden State Warriors Allen Robinson, NFL […]
Date: Mar 26, 2014
Time: 3:00 to 4:00
Speakers: Brenda Robinson
Venue: 370
On Wednesday, March 26th, Sports & Entertainment Law Society is hosting Brenda Robinson.  Room 370 between 3-4pm. Brenda Robinson, a Partner at Faegre Baker Daniels, will be our featured speaker.  Brenda, among other areas of practice, specializes in IP & Entertainment matters on behalf of clients in the music, film, television, and sports industries.
Date: Feb 26, 2014
Time: 3:00 to 4:00
Speakers: Andy Shiffman
Venue: 370
Andy Shiffman is Director of Basketball Operations and a Certified NBA Agent at Priority Sports & Entertainment.  Priority Sports & Entertainment is a very reputable sports agency, based here in Chicago with an office in LA as well.  Over the past 3 years, the agency has negotiated over a billion dollars in contracts on behalf […]
Latest News
Welcome to Sports and Entertainment Law Society! For those of you who were unable to make our first meeting, this can be your one stop shop for our early semester information. First off, give us a like on Facebook And a follow on Twitter @ChicagoKentSELS We will try to post all of our content that […]
Check out the link below, which shows annual conferences that the ABA "Forum on Entertainment & Sports Industries" puts on each winter. The conferences feature practical workshops and panels with expert speakers. Additional programming occurs throughout the year and can be seen from the link below as well. American Bar Association Events