IPLS is a student organization that educates Chicago-Kent students on various opportunities available in the area of IP law. These opportunities include the Chicago-Kent faculty educating IPLS members about substantive issues in Intellectual Property, as well as practitioners from respectable law firms coming in to provide an insight on their professional expertise.
IPLS holds a number of events throughout the school year. These events are designed not only to educate, but also to enable students to have fun while participating actively in IPLS. These events include resume workshops, discussions with guest lecturers, and informal lunch sessions with members of the intellectual property faculty at Chicago-Kent. Additionally, IPLS sets up an IP mentor program between students and practitioners.
Stay tuned to our website and facebook page for updated listings of our events!
---
Latest Events
Date: Feb 22, 2018
Time: 6:00 pm
Venue: The Ambassador Public House
Come hang out and grab a drink with IPLS! Thursday, February 22nd 6pm The Ambassador Public House 310 S Halsted St, Chicago, IL 60661
Date: Feb 06, 2018
Time: 12:00 pm to 1:00 pm
Venue: 580
IPLS is having its second general body meeting of the year next TUESDAY, FEBRUARY 6th, at noon in room 580. Come learn about the events we have planned this semester. Lunch will be provided!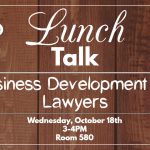 Date: Oct 18, 2017
Time: 3:00 PM to 4:00 PM
Speakers: Brent Ray
Venue: Room 580
The Intellectual Property Law Society ("IPLS") is hosting a lunch talk to discuss developing connections and a network, both inside and outside of the legal community, to lay the groundwork that will become the foundation upon which we will build…