Madeline Huerta | Managing Editor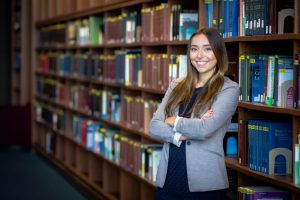 Madeline is a lifelong resident of Chicago, Illinois. She received her bachelor's degree in Environmental Analysis & Policy at Boston University. Her passion for conservation and the natural world brought her to Chicago-Kent, where she is participating in the Environmental and Energy Law Certificate Program.
During her 1L summer, she worked as a legal intern for GE Transportation through the Association of Corporate Counsel Diversity Summer Internship Program. This summer, Madeline is a litigation team intern with the Natural Resources Defense Council, a national environmental nonprofit organization. She is also participating in the Environmental and Energy Law Clinic, where she works on local environmental justice issues alongside nonprofit community groups.
In addition to her role as Managing Editor for the Law Review this year, Madeline is also Vice President of the Chicago-Kent Student Bar Association and an active member of the Student-Alumni Board. In her free time, she enjoys boxing, tennis, boating, and local breweries.