Meghan Tierney | Executive Notes & Comments Editor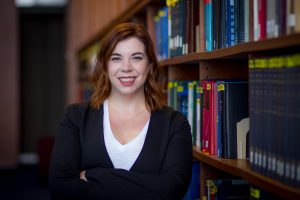 Meg grew up in Northbrook, Illinois and graduated from Loyola University Chicago in 2009 with a Bachelor of Science in Psychology and minor in Criminal Justice. During her undergraduate career, Meg tutored at-risk Chicago high school students, played intramural water polo, and coached a local high school synchronized swimming team. Meg interned with the Social Service Department of the Circuit Court of Cook County, as well as the Independent Police Review Authority.
After college, Meg began her career as a paralegal working for a small intellectual property firm. She currently works full-time as a patent paralegal at K&L Gates LLP. Meg is also a member, as well as the Membership Chair, of the Associate Board of Connections for Abused Women and their Children (CAWC), one of Chicago's oldest domestic violence nonprofit organizations. At Chicago-Kent, Meg is the Philanthropy Chair for the Society of Women in Law and is also a teaching assistant for 1L legal writing courses.
Meg is honored to serve as the Executive Notes and Comments Editor for the Law Review. She has always been passionate about writing and is excited to help our Junior Associates become better legal writers. Meg's student Note entitled "President Trump's Big, Beautiful Wall: Discrimination, Eminent Domain, and the Public Use Requirement" will be published this year in Volume 94 of the Chicago-Kent Law Review.
In her spare time, Meg enjoys reading historical non-fiction and American classics, geeking out about Star Wars, and drinking expensive bourbon. She lives in Edgewater and is on a first-name basis with an extraordinary number of Starbucks baristas in the Loop.