Samantha Ruben | Executive Articles Editor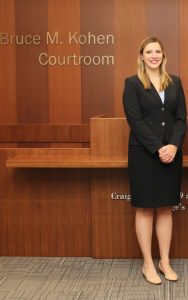 Samantha Ruben was raised in the suburbs of Chicago. She received a B.A. in Economics and International Studies from the University of Miami in 2016 and moved back to Chicago shortly after graduation. Before law school, Samantha worked as a legal assistant at a small commercial real estate and corporate law firm, Firsel & Ross.
During her 1L year, Samantha volunteered weekly at the Self-Help Web Desk at the Daley Center where she helped pro se litigants fill out various motions and forms. Following her 1L year, Samantha worked as a law clerk at a commercial litigation and patent law firm, Chapman Spingola, and she was also a research assistant to Distinguished Professor Richard Wright. During her 2L summer, Samantha was a Summer Associate at Lewis Brisbois Bisgaard & Smith.
Samantha is also a senior member of the Moot Court Honor Society and was a Teaching Assistant for Dean Sowle's Criminal Law class. Samantha enjoys planning events for the new organization she helped found last year, the Round Table, and playing beach volleyball, basketball, and golf.