Your eboard for the 2020-2021 year is:
President: Natasha Crespo
Vice President: Shannon Conder
Treasurer: Tara Pullano
Secretary: Victoria Lozano
Event Planner: Gabrielle Robles
Social Media Chair & Webmaster: Shelby Thordarson
Upcoming Events:
First general meeting
We will meet virtually on September 4th, 2020 from 1:30 pm to 2:30 pm. Please rsvp to receive the meeting link information.
Movie Night!
Join DALSA Friday, September 4, 2020 at 6:30 pm for movie night. We will be showing part 2 of the documentary And She Could Be Next by By Grace Lee (Director/Producer), Marjan Safinia (Director/Producer), Jyoti Sarda (Producer).
And She Could Be Next follows a defiant movement of women of color as they transform politics from the ground up. Filmed during the historic 2018 midterm elections, the series features organizers and candidates (including Rashida Tlaib and Stacey Abrams) as they fight for a truly reflective government, asking whether democracy can be preserved—and made stronger—by those most marginalized.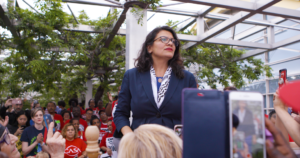 We will be watching in a Kosmi room. The room will remain empty until movie night.
This event is a collaboration with the award-winning documentary series POV.