The Chicago-Kent Justinian Society of Lawyers is comprised of Italian-American law students dedicated to contributing to a culturally diverse student body at Chicago-Kent.
Since the founding of our Parent Chapter, The Justinian Society of Lawyers, in 1921, this venerable institution has become one of the largest ethnic bar associations in the United States.
Our members are among the most active and influential in the legal profession. The society takes great pride in its contributions to the practice of law and to the administration of the justice system.
Like any successful organization, The Justinian Society is dependent on the involvement of its members. Perhaps it is the commonality of Italian heritage or the fellowship of professionals; it is nonetheless gratifying to observe the consistently high level of participation of our members. For these reasons, the society continues to grow as a dynamic force in the legal community while retaining a special place in the heart of each member.
We echo the mission of our parent organization, the Justinian Society of Lawyers, and aspire to:
Foster a spirit of friendship through social and professional events
Continue and improve the legal education of our members
Render mutual aid and assistance to our members
Promote the general welfare of our members by preparing them for the practice of law
Our members enjoy free membership in the professional chapter and access to unique social and networking events with members of the Chicago-area legal community, including judges, attorneys, and lawyers exploring a variety of alternative careers within and without the legal field.
Membership Benefits
Scholarships and Awards
Mentorship
Monthly Meetings
Justinian Newsletter
Lawyer Referral Program
We encourage each of our members to learn more about our parent organization and apply for membership. Student membership is free. You can apply for membership HERE
Learn more about our Parent Chapter, The Illinois Justinian Society of Lawyers, on their website.
Latest Events
Date: Nov 29, 2018
Time: 1:15PM
Venue: 345
The Justinian Society will be hosting a luncheon on November 29 from noon to 1:15 p.m. in Room 345. Lunch will be provided. Any and all are welcome, and we look forward to seeing everyone there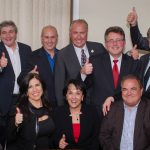 Date: Nov 17, 2016
Time: 6:00 PM
Cost: 50
Join our Parent Chapter at the annual Past Presidents Reception in remembrance of past presidents of the organization. The reception will be hosted on Thursday, November 17, 2016 at Bella Notte beginning with cocktails at 6:00 PM and dinner served at 7:00 PM. Further details and an RSVP can be found HERE.
Date: Oct 06, 2016
Time: 5:30
Speakers: Dolce Italian
Join the Chicago-Kent Justinian Society along with the Loyola and John Marshall Justinian Societies for happy hour at Dolce Italian at the Godfrey Hotel.