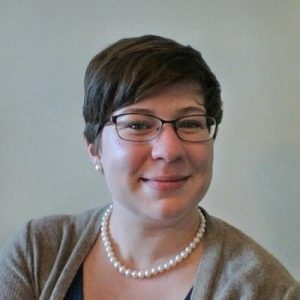 President
2017-2018
Graduation Year : 2018
Previous ACPLS Positions:
Personal Bio:
Katherine LaRosa has worked with ACS since her 1L at Chicago-Kent College of Law. She is originally from southwest Virginia, where she earned a B.S. in English Literature from Radford University, in Radford, Virginia. She then pursued an M.A. in English Literature from Radford University, where she focused on the works of Irish writers and women writers of the British Modernist period.
While in law school, Katherine worked with the Oyez Project at Chicago-Kent. During her 1L summer, Katherine was a Public Interest Law Initiative (PILI) intern with the Chicago Medical-Legal Partnership for Children, where she worked with low-income special needs children. She has continued to volunteer with this organization during her 2L and 3L years. She has also worked on various volunteer projects in Chicago, including composing and editing guidelines for minors seeking political asylum in Illinois. During the fall of her 2L year, Katherine externed for the Honorable Robert E. Gordon in the Illinois Appellate Court. This past summer Katherine was a summer associate at Hodges, Loizzi, Eisenhammer, Rodrick, and Kohn, an education and municipal law firm. In addition to being President of the ACS Chicago-Kent student chapter, she is a member of the Moot Court Honor Society, Student Alumni Relations Chair for Kent Justice Foundation, and is on the executive board of the Art and Cultural Property Law Society.