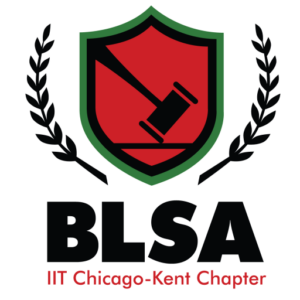 Meeting Minutes
Guest Announcements/ Introductions

Stella Nguepnang, Midwest Sub-Regional Director 3

Stella serves as the Midwest Sub-Regional Director 3 overseeing law schools in Iowa, Wisconsin, Illinois, and Minnesota. She serves as a liaison between the region and the board, promotes participation among leaders, and creates programming opportunities within the region. Contact information: mwblsa.subregion3@nblsa.org

Stella is currently organizing a legal jeopardy event for schools to participate in. The event will be held on Sunday – September 25, 2022 at 12:30pm. More details will follow.

Raff Donelson, Faculty Introduction

Professor Donelson recently began teaching at Chicago-Kent. He currently teaches courses in criminal law, criminal procedure, constitutional law, and legal theory. He is open for students to use him as a resource in any form, even if they are not currently taking his courses. For more information on Professor Donelson visit

here

.

Yvette Edwards, Themis Director

Eric Kang is generally our Director who will provide information and engage with our students at a later date.

There are many resources and supplement available for student use.

Themis practices a methodology that contains digestible chapters (10-12 minutes) that allow students to digest information that is student centered. Themis also offers hands-on resources including individualized unlimited essay grading, multiple choice questions. There are 2L promos, a public interest rate, and early registration and deposit deadlines that secure discounted rates for bar prep. 3L's can receive access to bar prep resources beginning in March. If students begin studying in May, there will be two modes students can work in that makes sense for their schedule. Students can become a Themis Rep and earn a free bar prep course. You can reach out to Aleathea at

awilliams24@kentlaw.iit.edu

or Eric Kang at eric.kang@themisbar.com for more information.

Yvette recommends that students utilize MPRE materials from different companies to determine what works best for them. You can find more information on Themis

here

.

Updates from Officers 

President 

Membership

Interested in being considered an active member? National dues are required. Being a dues-paid member provides you with access to our outline bank, the opportunity to attend regional and national conferences and events at a discounted rate, the option to participate in standing committees, and the ability to vote in elections and hold a leadership position within BLSA. This year we will also be providing dues paid members with BLSA shirts. We are currently in the design stage. For more information on membership visit

here

.

1L Representatives

Our executive board is actively recruiting candidates to serve as section representatives (A, B, C, and Evening) for the 2022-2023 school year. The primary role of our 1L Representatives is to serve as a bridge between your respective section and the BLSA executive board. In addition, you will work closely with our Publicity Chair to publicize our programs and events. 
If interested, send the following information to blsa@kentlaw.iit.edu: Candidate Statement (at or around 250 words), Professional Photo, Proof of Dues-Paid Membership, and Resume. The deadline for submission is Friday, September 9th, 2022 at 5:00 p.m. CDT.
Events

Welcome Back Event, 9/2

We have our first event of the year coming up this Friday. We will be having a mixer at Emporium Arcade Bar in Logan Square. Limited food, drinks, and game tokens will be provided.

Joint BLSA Bonfire on Friday, 10/1

Last year we partnered with other Chicago area law schools to connect our students in a social setting. This year we will be hosting the bonfire again with UIC, DePaul, University of Chicago, Northwestern, and Loyola.

Midwest Black Law Students Association – Academic & Leadership Retreat

President will be attending the retreat in her capacity on the Midwest Regional Board. We currently do not have funding to send exec members. Priority will go towards regional and national conferences. Select sessions will be virtual. For more information visit

here

.

Financial Report 

SBA Account: $250.00

Non-SBA Account: $3,821.50

Total: $4,071.50

These numbers are subject to change after reimbursements from our Welcome Back Event and tabling at the Student Organization Fair.

Staying Connected

Stay connected to us through our email list where you will receive our weekly newsletter. Our newsletter includes events, scholarships, jobs, academic resources, and chapter announcements. You can also stay connected to us through GroupMe and social media.

Academic Update

We are coordinating a recurring study space for us to come together a couple times a semester. We are also soliciting new outlines from those who received a B+ through A in classes. These outlines will be provided anonymously and can be sent to us at blsa@kentlaw.iit.edu

Mentor/Mentee Program

1L's interested in upper class mentorship can sign up

here

.

Out of Darkness Walk on Saturday, 9/17

Join BLSA for the Out of the Darkness Suicide Awareness Walk Saturday, September 17th , 2022 at Montrose Harbor. We participate to promote suicide prevention in honor of the late Nick Johnson from the Class of 2021. 
You can sign up to join or donate to our team here. Please note that donations can only be made to individual team members, but the donations go towards our overall team goal. If you have any questions, please email Margaret Harrold at mharrold@kentlaw.iit.edu
Old Business 

Bylaws Review

In an effort to ensure our organization is fully operational, BLSA launched a Bylaws Review Committee in 2021 to examine, edit, and make new recommendations for the entire general body to vote on in the near future. Take a look at the

proposed bylaws.

 

Adjournment