Jun Qiu, our CLS President, was recently recognized as one of National Jurist's 20 "Law Students of the Year" for her contributions to her law school and community in the past year. Last year she attended the ABA TechShow 2017 for the first time and joined Twitter to expand her legal tech network. This week she'll be speaking at the #LegalTech & Innovation Talks meetup hosted at Skadden during the ABA Techshow 2018.
This student leader profile is cross-posted from the CK-Now Blog
It's hard to say where you're most likely to meet Jun Qiu at Chicago-Kent. She has been quick to take advantage of every opportunity that matches her many skills and interests. In her time here, she's helped create two new student organizations, served as a research assistant in the Law Lab and for Illinois Tech's Institute of Design, and is now assisting law students as a TA for our Legal Writing Program.
At Chicago-Kent
Jun Qiu was already working as a CPA when she decided to pursue law school because she wants "to change the world, to promote justice and fairness." Chicago-Kent drew her interest for its location and  legal writing program.
Such a great honor to meet with Justice Elena Kagan this morning! I have to frame this picture! pic.twitter.com/AAQ8mGmjFw

— Jun Qiu (@JunQishere) October 16, 2017
Jun started out her time at Chicago-Kent strong with the 1L Your Way Business Organizations course and has continued to look for special opportunities, including a variety of externships and student positions:
Externship at Entrepreneurial Law Clinic

Externship with Justice Robert E. Gordon at Illinois Appellate Court

The Law Lab Research Assistant

The Institute of Design Research Assistant
When asked what surprised her about Chicago-Kent, she said she appreciates how "supportive and inclusive" the community is and her opportunities to be creative.
A few glimpses of the innovative courses and projects Jun has participated in at Chicago-Kent, from her own twitter account:
Kicking off my 3L year with Legal Analytics from @computational, @afrabanal, and @LawQuant! A lot of info and inspiration today! pic.twitter.com/Zr7gmGjwFZ

— Jun Qiu (@JunQishere) August 22, 2017
.@ChicagoKentLaw students helped at a #legaltech #a2j project! Cc: @hkrent @LawQuant #LegalInnovation #Socialimpact https://t.co/WWoAfIE36y

— Jun Qiu (@JunQishere) August 30, 2017
AMY COBB CURRAN, wife of @scottmcurran, partner @ChapmanCutler, expert of #PayForSuccess / #socialimpact bonds, is finally here in the room!!! I've been waiting for her guest lecture for the whole semester of Lawyers as Social Innovators class @ChicagoKentLaw! pic.twitter.com/K3A8Ms0usb

— Jun Qiu (@JunQishere) November 8, 2017
Me catching @sglassmeyer talking about our Miranda project @legalhackCHI Meetup @ChicagoKentLaw!! I was still dressing like????from CGCC reception!P/C to @EBarney! Thanks for everyone coming join us! @DanLinna @computational @LawLaboratory @ABAInnovation @imokx @dleit7 #legaltech pic.twitter.com/n79U0v9ujY

— Jun Qiu (@JunQishere) December 9, 2017
Student Leadership
From founding new student organizations to hosting events, Jun always been quick to take on leadership to enhance her own skills, to help others learn and network, and to inspire others to keep connecting, too:
1L Representative for Corporate Law Society
APALSA president 2016-2017, hosted International Law Panel
Founding President of the 

Tax Law Society

in 2016-2017
President of Law Firm Management Society 2017-2018
Founding President of the China Law Society in 2017-2018
ABA Representative for SBA 2017-2018
member of Chicago-Kent Alumni-Student Board since 2016
I'm very grateful for & proud of the diversity & inclusiveness @ChicagoKentLaw! Had a great time hosting #MinorityGraduationLuncheon today. pic.twitter.com/OdfBMOTYgI

— Jun Qiu (@JunQishere) May 14, 2017
A great inaugural session of China Law Society's Lunch and Learn Series @ChicagoKentLaw! Discussion continued afterwards! #kentlaw pic.twitter.com/Hwq21V8X8s

— Jun Qiu (@JunQishere) September 23, 2017
Worth waiting to ps @computational into this group pic after #LFMS panel! Great feedback received about the panel. Photos credit 2 @EBarney! pic.twitter.com/4FYxmqhp0O

— Jun Qiu (@JunQishere) October 11, 2017
Chicago & Beyond
As a law student, Jun has consistently sought out ways to get involved in the legal community beyond Chicago-Kent, from the ABA TechShow  and Chicago Legal Innovation & Technology Meetup to the Women's Bar Association of Illinois and the Chinese American Bar Association, where she regularly attends local events and builds friendships.
Highlight of my first official legal tech involvement! #ABATECHSHOW pic.twitter.com/wKy9gBySUD

— Jun Qiu (@JunQishere) March 18, 2017
Hey #legaltech, meet my tenacious friend & classmate @JunQishere. It only took her a hot sec to befriend @Chasramp & @JoshuaLenon. Legend.

— Karl Haraldsson (@LawQuant) March 19, 2017
My 2nd #LegalHackCHI meet-up experience!! Six months has flew by since my 1st one during #ABATECHSHOW & my law school life changed entirely! pic.twitter.com/HLGkMdAHJw

— Jun Qiu (@JunQishere) September 28, 2017
Picture with Judge Moltz at #WBAI annual dinner, who has won the best dressed award for 10 years in a row! Our one-of-a-kind Judge Moltz! ???? pic.twitter.com/rKZS3DihPA

— Jun Qiu (@JunQishere) June 9, 2017
Kudos to Jeff Koh @312lawyer, President of @cabachicago, for this great installation & award reception! Look how packed the room is!! pic.twitter.com/dIhvjtbkZH

— Jun Qiu (@JunQishere) October 13, 2017
National Connections
This year she's traveled to New Orleans and Washington, DC, building on connections she's formed in her time as a law student:
Many thanks to @EJWalters for the tour at @fastcase, the place making great changes! And of course, thx to @JoshuaLenon for connecting us! pic.twitter.com/1EWU0nJrDG

— Jun Qiu (@JunQishere) November 2, 2017
The #LegalTechMafia look after heir own. https://t.co/7wMx0on8TI

— Joshua Lenon (@JoshuaLenon) November 2, 2017
As a 1st-time attendee, I thank u all 4 ur leadership, outgoing P @Cyndie_Chang, incoming P @PankitJDoshi & P-elect @oludesak!! #NAPABA17 pic.twitter.com/gzMUjdBdbY

— Jun Qiu (@JunQishere) November 5, 2017
Planning for #NAPABA18 is well underway in Chicago! We'll be there #WeAreHere pic.twitter.com/nlUPPzVzY8

— NAPABA (@NAPABA) January 17, 2018
In addition to joining local and national events, she's shared her perspectives through writing and presenting via the WBAI's newsletter, ABA for Law Students, and the Chicago Bar Association future summit:
We get such great students @ChicagoKentLaw! #LegalEd folks will love this article by @JunQishere in @ABALSD: https://t.co/mUd0IVU7Xh

— EBarney (@EBarney) June 16, 2017
Thanks to @JunQishere for presenting @ChicagoBarAssoc for the #future summit! pic.twitter.com/Hdr42x886J

— Catherine Reach (@catherinereach) October 6, 2017
Taking Breaks
Ho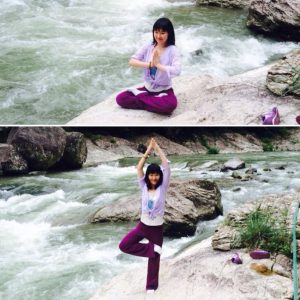 w does Jun manage to balance so many activities? It helps that she has a very short commute living nearby in the West Loop: "I am only one block away from law school that I can see the school building from my windows! Very convenient!!" She also says she finds it helpful to make time to meditate when she needs to relax.
She has a lot of other talents beyond her accounting and legal skills, from dancing to cooking, which she enjoys on breaks and between projects when she finds the time! (Or incorporates into her student org activities, if possible).
Swing dancing at school. Is it too early for a party? Folks you are missing great lessons — see how fast we are leaning! @ChicagoKentLaw pic.twitter.com/yw72ULGU7t

— Jun Qiu (@JunQishere) March 22, 2017
My winter break = cooking bootcamp. ???? Making dumplings all by myself!! #3lol #LawStudent last #winterbreak pic.twitter.com/BXfG4ZsAS6

— Jun Qiu (@JunQishere) December 20, 2017