Alt-Labor Law: The State of the Law of the New Labor Movement

2019 Chicago-Kent Law Review Live Symposium
---
Symposium Editor
César F. Rosado Marzán, IIT Chicago-Kent College of Law
Michael Oswalt, Northern Illinois University College of Law
---
Chicago-Kent College of Law
565 West Adams Street
Chicago, Illinois 60661
November 14, 2019
Directions and Parking
Contact: Hannah Schwab | cklawreview.me@kentlaw.iit.edu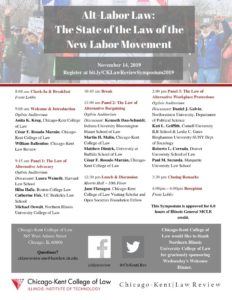 The Symposium is free and has been approved for 6.0 IL General CLE Credit Hours.
Schedule
Speakers are invited to attend a welcome dinner sponsored by the Northern Illinois University College of Law. 
| | | |
| --- | --- | --- |
| 8:00am–9:00am | Check-In & Breakfast | Front Lobby |
| 9:00am–9:15am | Welcome & Introduction | Ogilvie Auditorium |
| 9:15am–10:45am | Panel 1: The Law of Alternative Advocacy | Ogilvie Auditorium |
| 10:45am–11:00am | Break | Front Lobby |
| 11:00am–12:00pm | Panel 2: The Law of Alternative Bargaining |  Ogilvie Auditorium |
| 12:30pm–2:00pm | Lunch & Discussion | Morris Hall |
| 2:00pm–3:30pm | Panel 3: The Law of Alternative Workplace Protections | Ogilvie Auditorium |
| 3:30pm-4:00pm | Closing Remarks | Ogilvie Auditorium |
| 4:00pm-6:00pm | Reception | Front Lobby |
| | | |
| | | |
| | | |
| | | |
Roberto L. Corrada, Denver University School of Law
Roberto Corrada has devoted his scholarly attention to three primary areas: the rights of ethnic and sexual minorities; the public/private distinction in labor and employment law; and the scholarship of teaching and learning. He has published articles on these subjects in the Wake Forest Law Review, the Cincinnati Law Review, the Houston Law Review, the Miami Law Review, the Catholic University Law Review, the Berkley Journal of Labor & Employment Law; and the Journal of Legal Education, among others. In addition, Corrada has published casebooks in administrative law and employment discrimination law. A distinguished teacher, Corrada has been recognized for his innovative work in the classroom. In 2000, he was selected as national Carnegie scholar for his active and collaborative learning efforts in his labor law classroom. In 2002, he was named University of Denver College of Law Donald & Susan Sturm Professor for Excellence in Teaching and Learning.He has won the University of Denver Distinguished Teaching Award and has been recognized as a DU Law Star. For 20+ years, Corrada has been extensively involved in service work with local and national institutions. In 1998, he was chairman of the board of the ACLU of Colorado. In 2002, he served as chair of the Association of American Law Schools Labor & Employment Relations Section. From 2000 – 2010, he served as secretary of the Latino/a Critical Legal Theory Association. In 2007, he helped form the Denver Urban Debate League, which he currently co-chairs.
"Greene: Signs were Max's anchor" February 12, 2009: Denver Post Columnist Susan Greene writes about Max Corrada, Professor Roberto Corrada's son who passed away on January 25, 2009.
Kenneth Dau-Schmidt, Indiana University Bloomington Mauer School of Law
Professor Dau-Schmidt is a nationally recognized teacher and scholar on the subjects of labor and employment law and the economic analysis of legal problems.
His innovative teaching methods using classroom simulations have been widely featured in publications including the Christian Science Monitor, Chronicle of Higher Education, the Chicago Sun-Times, the National Jurist, and the Indiana Daily Student. In 2003 he was awarded the Leon H. Wallace Award, Indiana Law's top teaching prize, and IU's Sylvia Bowman Award for Teaching Excellence. He received the Excellence in Education Award of the Industrial Relations Research Association in 2004.
He is author of seven books and numerous articles on labor and employment law and the economic analysis of law, and he frequently presents papers at academic conferences and law schools across the United States, Canada, Europe and Asia. In 1990 he received the Scholarly Paper Award from the Association of American Law Schools for his work on the economic analysis of the criminal law as a preference-shaping policy.
Dau-Schmidt is active in law school administration, most recently serving as the Associate Dean of Faculty Research. He was also the Chair or Co-Chair of the law school's Center for Law, Society and Culture from 2003-2007 and has been an active participant in the Committee on Institutional Cooperation (CIC) and IU leadership programs.
Involved in several national academic associations, Dau-Schmidt was elected to the National Council of the American Association of University Professors and appointed to serve on the executive and litigation committees of that organization. He is the past chair of the Labor Law Group and has chaired the Association of American Law School sections on the Economic Analysis of Law and Socio-Economics. In addition, he has served in various capacities on the executive committee of the AALS section on Labor and Employment Law and the Industrial Relations Research Association's section on Labor and Employment Law. He is also a founder of the Midwest Law and Economics Association.
Professor Dau-Schmidt has been fortunate enough to be invited to teach at various European and Asian universities, including Christian-Albrechts-Universität in Kiel, Germany; Friedrich-Alexander-Universität in Erlangen, Germany; and Université Panthéon-Assas (Paris II) in Paris. He is also an affiliated faculty member with Peking University's School of Transnational Law in Shenzen, China.
Matthew Dimick, University at Buffalo School of Law
Matthew Dimick is Professor of Law at the University at Buffalo School of Law. His scholarship explores the relationship between the law and economic inequality. Recent projects include a theoretical and empirical study of the relationship between altruism, income inequality, and preferences for redistribution in the United States; a theoretical and case-study analysis of the politics of regulating low-wage work in wealthy democracies; and the role of minimum wage legislation in an optimal redistribution policy. Currently, he is working on a book manuscript about the law and economics of redistribution and income inequality.
His research has appeared in generalist law reviews and peer-reviewed economics, political science, and sociology journals, and has been featured in The Atlantic, Vox, and the On Labor blog. He has taught courses in federal income taxation, tax policy, labor law, employment law, comparative corporate governance, and comparative and international labor and employment law.
He holds a PhD in sociology from the University of Wisconsin-Madison and a JD form Cornell Law School. Prior to coming to the University at Buffalo Law School, Dimick was a Law Research Fellow at Georgetown University Law Center. After law school and before graduate school, he worked for the Service Employees International Union in Washington, DC.
Catherine Fisk, UC Berkeley Law School
Catherine Fisk joined the Berkeley Law faculty as the Barbara Nachtrieb Armstrong Professor of Law in 2017. She was Chancellor's Professor of Law and a member of the founding faculty of the University of California, Irvine Law School from 2008 to 2017. Fisk was the Douglas Blount Maggs Professor of Law at Duke University from 2004 to 2008, and before that, she was a professor at the University of Southern California Law School and Loyola Law School of Los Angeles. She regularly teaches Labor Law, Employment Law, and Employment Discrimination, along with Civil Procedure, First Amendment, and Legal Profession.
Fisk is the author of five books and scores of articles. Her recent books include Writing for Hire: Unions, Hollywood, and Madison Avenue (Harvard University Press 2016), and two casebooks: Labor Law in the Contemporary Workplace (2d ed. West, 2014) and The Legal Profession (West 2014). She is also the author of Working Knowledge: Employee Innovation and the Rise of Corporate Intellectual Property, 1800-1930 (UNC Press 2009), which won two book prizes of the American Historical Association and the American Society for Legal History. Her recent articles cover a wide range of subjects including police unions, the history and current experiences of unionized writers in the entertainment industry, labor protest and the First Amendment, the governance of worker center and labor unions, class action employment claims, and the theory and methods of sociolegal history. Her current book project, a legal history of lawyers for the labor movement in the mid-twentieth century, examines the challenges faced by lawyers and labor unions as the courts and Congress steadily increased restrictions on labor protest between 1940 and 1990.
In addition to teaching and writing, Fisk works with students on pro bono litigation, principally writing briefs in federal and state appellate courts on labor issues. She also supervised students in labor practicum projects doing legislative and policy advocacy focused on wage theft and other issues confronting low wage workers.
After graduating from law school at UC Berkeley, Fisk clerked on the United States Court of Appeals for Judge William Norris and then practiced law at a labor and civil litigation boutique in Washington, DC and at the appellate section of the Civil Division of the U.S. Department of Justice.
Jane Flanagan, IIT Chicago-Kent College of Law Visiting Scholar and Open Societies Foundation Fellow
Jane Flanagan is a Leadership in Government fellow with the Open Society Foundations and a Visiting Scholar at IIT Chicago-Kent School of Law.
Flanagan is the former chief of the Workplace Rights Bureau within the Illinois Attorney General's Office, a bureau she founded and led from November 2015 through December 2018. Under her leadership, the bureau brought national attention to the increasing use of illegal noncompete agreements for low-wage workers and negotiated settlements to release thousands of such workers nationwide from those agreements. Flanagan also oversaw cases involving employment discrimination and wage law violations.
Previously, Flanagan was an assistant attorney general in Maryland and counsel to Maryland's Division of Labor and Industry. She began her career in private practice litigating wage and hour collective action cases on behalf of employees.
Flanagan earned a BA with honors from Wesleyan University and a JD from Northeastern University School of Law.
Daniel J. Galvin, Northwestern University, Department of Political Science
Daniel Galvin's research focuses on the development of political institutions, political organizations, and public policy in the United States. He is the author of Presidential Party Building: Dwight D. Eisenhower to George W. Bush (Princeton University Press, 2010), numerous scholarly articles and book chapters, and co-editor of Rethinking Political Institutions: The Art of the State (NYU Press, 2006). His current research examines the effects of organized labor's decline on public policy, party politics, and the working poor.
Galvin recently received a Russell Sage Foundation (RSF) presidential authority grant for his research on "The New Politics of Workers' Rights." Previously, he was awarded the "Emerging Scholar Award" from the American Political Science Association's Political Organizations and Parties section, the E. LeRoy Hall Award for Excellence in Teaching from Northwestern's Weinberg College of Arts and Sciences at Northwestern, the R. Barry Farrell Teaching Award from the Department of Political Science, and was twice elected by the Northwestern student body to the Faculty Honor Roll.
Kati L. Griffith, Cornell University ILR School & Leslie C. Gates Binghamton University-SUNY Dept. of Sociology
Professor Griffith is Associate Professor of Labor & Employment Law and Chair of the Labor Relations, Law, & History Department at Cornell's ILR School. She is also an Associate Member of the Cornell Law Faculty. A Research Fellow affiliated with NYU's Center for Labor & Employment Law, Griffith's scholarship focuses primarily on the intersection of immigration and workplace law at the subfederal, federal and international levels. She is a co-author (along with Michael Harper and Samuel Estreicher) of the textbook Labor Law: Cases, Materials, and Problems, 8th Edition (Walters Kluwer). She teaches courses on labor & employment law, immigration law and legal issues affecting low-wage workforces. She has twice received Cornell ILR MacIntyre Awards for Exemplary Teaching and has twice been selected as the Most Influential Faculty Member by Merrill Presidential Scholars. In 2018, Griffith was named a Stephen H. Weiss Junior Fellow, Cornell's highest teaching award for Associate Professors.
Griffith joined Cornell's ILR faculty in the Fall of 2007 after completing a Skadden Fellowship as a Staff Attorney at the Workers' Rights Law Center of New York, Inc. in New York's Hudson Valley. Prior to the Skadden Fellowship, Griffith served as a Law Clerk for the Honorable Rosemary S. Pooler in the U.S. Court of Appeals for the Second Circuit. She is a cum laude graduate of NYU School of Law, where she was a Root Tilden Public Interest Scholar, received the Sol D. Kapelsohn Prize for highest excellence in writing in the field of labor law and served as the Editor-in-Chief of the N.Y.U. Review of Law and Social Change. Before earning her J.D. from NYU, Griffith conducted research on women workers and labor law in Mexico as a Rotary Scholar and in El Salvador as a Fulbright Scholar. 
Hiba Hafiz, Boston College Law
Hiba Hafiz joined BC Law as an Assistant Professor of Law in 2018. She teaches and writes in the areas of labor and employment law, antitrust law, and administrative law. Her work focuses on legal solutions to labor market concentration and inequality.
After graduating with a B.A. from Wellesley College, Hiba completed a Ph.D. in Comparative Literature at Yale University. During her doctoral program, she served as a union organizer for graduate students and enrolled in Columbia Law School to further study workers' rights. After graduating in 2010, she represented farmworker victims of trafficking as a David W. Leebron Human Rights Fellow at the International Rights Advocates.
Between 2011 and 2013, Hiba clerked for Judge Juan R. Torruella of the U.S. Court of Appeals for the First Circuit and Judge José L. Linares of the U.S. District Court for the District of New Jersey. After clerking, she practiced law in the Antitrust Practice Group at Cohen Milstein Sellers & Toll PLLC in Washington, D.C., where she represented plaintiffs in antitrust class actions against pharmaceutical companies and employers. Hiba left practice to become a Harry A. Bigelow Teaching Fellow and Lecturer in Law at the University of Chicago Law School. While at the University of Chicago, Hiba taught Legal Research and Writing and a seminar on Work Law in the New Economy.
Martin H. Malin, IIT Chicago-Kent College of Law
Professor Malin is co-director of the Institute for Law and the Workplace and teaches Labor Law, Employment Discrimination, Public Sector Employees, ADR in the Workplace, and Contracts. He received his B.A. from Michigan State University's James Madison College and his J.D. from George Washington University, where he was an editor of the law review and elected to the Order of the Coif. He joined the Chicago-Kent faculty in 1980 after serving as law clerk to United States District Judge Robert E. DeMascio in Detroit and on the faculty of Ohio State University.
Professor Malin is a former national chair of the Labor Relations and Employment Law Section of the Association of American Law Schools, a former Secretary of the ABA Section on Labor and Employment Law, a former member of the Executive Committee of The Labor Law Group, and a former member of the Board of Governors of the National Academy of Arbitrators. He currently serves on the Board of Governors of the College of Labor and Employment Lawyers and is a Vice President of the National Academy of Arbitrators. During 1984 and 1985, Professor Malin served as consultant to the Illinois State, Local and Educational Labor Relations Boards and drafted the boards' regulations implementing the Illinois Public Labor Relations Act and the Illinois Educational Labor Relations Act. From 2004 to 2008, he served as reporter to the Neutrality Project of the Association of Labor Relations Agencies, which produced a mini-treatise on labor board and mediation agency impartiality. In October 2009, President Obama appointed Professor Malin as a member of the Federal Service Impasses Panel, which resolves impasses in collective bargaining between federal agencies and unions that represent their employees. President Obama reappointed Professor Malin in 2014. In 2016, the ABA presented Professor Malin with the Arvid Anderson Award for lifetime contributions to public sector labor law.
Professor Malin has written extensively on all aspects of labor and employment law, including Public Sector Employment (West 2004, 3rd ed. 2016), the leading casebook on the law governing public employees, and Labor Law in the Contemporary Workplace (West 2009, 2d ed. 2014), a leading casebook on labor law.
Michael Oswalt, Northern Illinois University College of Law
Michael M. Oswalt joined the NIU College of Law in 2013 and teaches torts, labor law, employment law, workers' compensation and seminars on emerging issues in employment discrimination and worker organizing.
Michael's research focuses on the relationship between law and activism, particularly how legal and other regimes transform the possibilities for engagement in civic and institutional arenas. Since coming to NIU, Michael's full-length articles have been published by the California Law Review, the Cardozo Law Review and the UC Irvine Law Review. His recent work includes an empirical study of collaborations between workers, employers and public officials to enforce employment protections that will appear in the Berkeley Journal of Employment and Labor Law (with César F. Rosado Marzán). In 2019, an article exploring the role of emotions in regulating workplace coercion will be published by the UC Davis Law Review. An essay on voting procedures in union representation elections will be included in the book, Reviving American Labor for a 21st Century Economy (Richard Bales & Charlotte Garden, eds.), published by Cambridge University Press.
Michael graduated from Haverford College and has degrees in law and theology from Duke University. At Duke he was a member of the Duke Law Journal and served as notes editor for the Duke Journal of Gender Law and Policy. After law school he clerked on the United States Second Circuit Court of Appeals for Judge, now Justice, Sonia Sotomayor. Michael previously worked for the Service Employees International Union where he provided counsel to a variety of low wage worker campaigns.
César F. Rosado Marzán, IIT Chicago-Kent College of Law
Professor César F. Rosado Marzán teaches Contracts, Employment Relationships, International and Comparative Labor and Employment Law, and Labor Law at Chicago-Kent College of Law. He strives to teach his courses in a way that helps students appreciate the importance of reason, principle, and empirical fact to provide coherent, purposeful, and effective meaning to the law.
He is co-director of the Institute for Law and the Workplace, an academic and professional training center for labor and employment law professionals.
Trained as a sociologist and attorney, Rosado Marzán's research interests lie at the intersection of qualitative empirical research and workers' rights. He is currently working on a book project arguing that "worker centers"—hybrid community-labor groups, often operating on small budgets—can contribute to a "moral economy" for economic justice and democratic rights. He is also working on a project on how U.S. unions have been oligarchic and solidaristic in Puerto Rico, and how such actions have influenced workers' rights in that U.S. territory. Additionally, he is working on articles about the effective use of wage boards for union organization. Finally, he is working with his colleague Sungjoon Cho on a project on why the International Labor Organization and the World Trade Organization should collaborate to produce new norms that consider the social dimensions of trade.
Rosado Marzán is author (with Sergio Gamonal C.) of Principled Labor Law: U.S. Labor Law Through a Latin American Method (Oxford 2019). The book shows how Latin America's "principled" method can bring U.S. labor and employment law closer to meeting international labor standards. Principled Labor Law won the 2019 Simón Bolívar best book of the year award from the Bar Association of Puerto Rico (Colegio de Abogados y Abogadas de Puerto Rico). Additionally, he has contributed book chapters to various edited works. His articles have appeared in U.S., European, and Latin American publications, including Law & Social Inquiry, Minnesota Law Review, UC Irvine Law Review, Berkeley Journal of Employment and Labor Law, Chicago-Kent Law Review, University of Chicago Legal Forum, International Journal of Comparative Labour Law and Industrial Relations, Revista de Derecho Laboral y Seguridad Social, Revista del Colegio de Abogados de Puerto Rico, among many others.
Rosado Marzán has been a visiting faculty member or scholar the University of Iowa College of Law, the Universidad Autónoma de Madrid School of Law, Stockholm University's Law Department, the American Bar Foundation, and the Oñati Institute for the Sociology of Law. He was the Chicago-Kent 2017 Norman and Edna Freehling Scholar. He collaborates with Harvard's Clean Slate Program, which aims to redraw U.S. labor law. He was a member of the Regulating Markets and Labour Program at Stockholm University, which has supported his work. He was a Princeton University Presidential Fellow and a José Padín Scholar at Haverford College. He is an active member of the Law & Society Association, where he has served on a number of committees and collaborative research networks. He is, additionally, a member of the American Sociological Association, the International Sociological Association, the Colegio de Abogados de Puerto Rico, and the Puerto Rican Bar Association of Illinois, among other professional associations.
Before arriving at Chicago-Kent, Rosado Marzán practiced union-side labor law in New York and Puerto Rico.
Paul M. Secunda, Marquette University Law School
Professor Secunda teaches employee benefits law, labor law, employment discrimination law, employment law, education law, civil procedure, and trusts and estates. He is also the founder of the Marquette Benefits and Social Welfare Law Review, which began publication in 2015.
Former U.S. Secretary of Labor Hilda Solis appointed Professor Secunda to a three-year term on the U.S. Department of Labor's ERISA (employee benefits law) Advisory Council, effective January 2013.  Former Secretary of Labor Thomas Perez appointed him to serve as the Chairman of the Council for calendar year 2015.  He was recently elected as a fellow of the American College of Employee Benefits Counse and as a fellow of the American Bar Foundation.
Professor Secunda received the Senior Fulbright Scholar Award for 2015-2016 to study Australian workplace retirement law (superannuation) at Melboure University Law School.  He was a Senior Fellow at Melbourne Law School, teaching in their Masters of Law program both international employment law and comparative superannuation (workplace retirement plan) law.  He was again a Senior Fellow at Melbourne Law in March 2017. Professor Secunda's previous international research and teaching experiences have included: visiting professor at the Universite de Paris Ouest Nanterre La Defense during June 2011, visiting professor of law at the University of Wisconsin-Madison Law School during the summer and fall 2011 semesters, the 2012 Hicks Morley Visiting Professor of International Labour Law at The Western Ontario Faculty of Law, and visiting professor of law for the part-time LLM Comparative Law Program and visiting scholar at the Osgoode Hall Law School at York University in Toronto. He was a visiting scholar at Hong Kong Polytechnic University in May of 2016 and in the summer of 2018, a visiting professor, teaching international employment law at Justus-Leibig Universitat in Giessen, Germany.
Professor Secunda writes extensively on employee benefits (with emphasis on study of the international and comparative aspects of workplace retirement plans), labor law, employment law (with emphasis on the employees' right to disconnect from the workplace, constitutional rights of public employees and workplace safety & health issue), employment discrimination law, and education law (with emphasis on special education law).  His recent law review articles on these topics have appeared, among other publications, in the UCLA, University of Chicago Legal Forum, Washington University, Notre Dame, Indiana, Illinois, Florida State, Fordham, Pepperdine, San Diego, Colorado, Hastings, and Wisconsin Law Reviews; his essays have been published in the online journals at Yale, Penn, Northwestern, and UCLA.  His articles have been cited and discussed in many top law reviews, including the Harvard Law Review, Yale Law Journal, Columbia Law Review, and NYU Law Review, among others.
Professor Secunda is also the author or co-author of a number of current books, including: Employment Law: Case Materials (8th ed. 2018 Supp.) (with Mark Rothstein, Lance Liebman, Kim Yuracko, and Charlotte Garden); Understanding Employment Law 3rd ed. (with Rick Bales and Jeff Hirsch); Mastering Employment Discrimination Law 2nd ed. (with Jeff Hirsch and Joe Seiner); Labor Law: A Problem-Based Approach 2nd ed. (with Jeff Hirsch and Michael Duff); Mastering Labor Law (with Jeff Hirsch, Joseph Slater and Anne Lofaso), and Global Issues in Employee Benefits Law (with Samuel Estreicher and Rosalind Connor).
Professor Secunda is the past national Chair of three Sections of the Association of American Law Schools (AALS): Employee Benefits and Executive Compensation, Labor Relations and Employment Law, and Employment Discrimination Law. Along with Joseph Slater and Scott, he founded the Colloquium on Scholarship in Employment and Labor Law (COSELL), now in its 14th year and was also a co-founder, with Peter Wiedenbeck and Dana Muir, of the ERISA and Social Insurance Law Annual Conference, now in its 8th year.  He is an elected member of the American Law Institute (ALI), where he worked on the Restatement of Employment Law. He is also a former editor of the Workplace Prof Blog, an advisory board member of the Tax and Employee Benefit Law Center at John Marshall Law School, and an Ambassador and Team Leader of the International Best Practices Team of the United Kingdom Transparency Taskforce.  Professor Secunda has co-authored numerous amicus briefs in employee benefit, labor, and employment law cases, including the Tibble, Lane and Dudenhoeffer U.S. Supreme Court cases, and is a frequent presenter and commentator internationally and domestically on labor, employment, benefits, pension, and education law issues. You can find him also on Twitter @psecundawrkprof, where he discusses, and links to, current developments in workplace legal and political issues, employee benefits law, and education law.
Special Recognitions: 2019, named Fellow of the Amercian Bar Foundation (ABF); 2018 Inducted Fellow into American College of Employee Benefits Counsel; 2015-2016 Senior Fulbright Scholar Research Award for Australia; 2014 Paul Stephen Miller Memorial Award for academic and public contributions to the field of labor and employment law; Order of the Coif; Chairman (2015), DOL's ERISA Advisory Council; Elected Member of the National Academy of Social Insurance (NASI); Elected Member of the American Law Institute (ALI); Distinguished Service Award for Southeastern Association of Law Schools (SEALS); and Honorary Lifetime Member of SEALS.
Laura Weinrib, Harvard Law School
Laura Weinrib is Professor of Law at Harvard Law School and Suzanne Young Murray Professor at the Radcliffe Institute for Advanced Study. A legal historian, she studies how social movements have transformed constitutional categories to pursue political and economic change. She is the author of The Taming of Free Speech: America's Civil Liberties Compromise (Harvard University Press, 2016), which traces the emergence during the first half of the twentieth century of a constitutional and court-centered concept of civil liberties as a defining feature of American democracy. Her articles, essays, and book chapters have explored a wide range of subjects in American legal history, as well as constitutional law, labor law, and law and literature.
Weinrib is a 2003 graduate of Harvard Law School. She completed her PhD in history at Princeton University in 2011. In 2000, she received an AB in literature and an AM in comparative literature from Harvard University. After law school, Weinrib clerked for Judge Thomas L. Ambro of the United States Court of Appeals for the Third Circuit. From 2009 to 2010, she was a Samuel I. Golieb Fellow in Legal History at the New York University School of Law. Before joining the Harvard Law School faculty in 2019, she was Professor of Law at the University of Chicago Law School and an Associate Member of the University of Chicago Department of History.