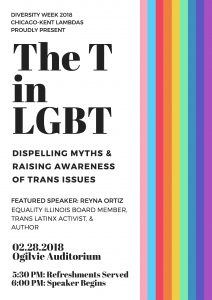 This recap is cross-posted from the CK Now blog
During Diversity Week 2018, Lambdas Secretary Elisabeth Hieber moderated a discussion with Reyna Ortiz, a Trans Latinx activist and author.
Elisabeth began by introducing the wide ranging work and talents of Reyna, then continued with questions she had prepared, from basic vocabulary to outreach and advocacy within and for the trans community. The event ended with an open Q&A with the audience.
Continue reading "Event Recap: The T in LGBT – Dispelling Myths and Raising Awareness on Trans Issues" →