s | b | a CHICAGO-KENT STUDENT BAR ASSOCIATION NEWSLETTER
August 21, 2023
SBA wants to welcome all students back! SBA is here to keep you connected; please reach out to sba at any time!
Upcoming Events/Deadlines
August 21: Coffee in front of the SPAK
August 24: Bar Review at Dylan's Tavern
August 25: White Sox Game and IPLS meet and greet at Dylan's
August 26: SBA GA Meeting
August 29: Student Organization Fair
September 5: Applications for CKJIP due
October 19: Workplace Law Information Session
Announcements
SBA General Body Meeting: SBA is having its first general assembly meeting on August 26th at noon in room 580. All students are welcome to attend and observe. If you wish to address the general assembly, you must email sba with a few sentences explaining your reasoning prior to the meeting. Please note that speaking rights will be granted on a case-by-case basis. The deadline for this is the Wednesday before the meeting (so for this meeting, you must email SBA by 11:59pm on 8/23)
Workplace Law Program: Workplace law is one of the most dynamic fields in the legal profession right now, and there's no better place to study it than Chicago-Kent. Learn more about the certificate program in Labor & Employment Law and hear from alumni working in a variety of labor and employment law jobs.
Resources
Mental Health Resources at Kent:
Quiet Study in Library: As our community returns to in-person study and instruction at the Conviser Law Center, the Law Library, in conjunction with the Student Bar Association, wants to remind students that the Law Library is a quiet study space. Talking is discouraged in open seating areas where, if necessary, conversations should be brief and very quiet. For group study and discussion, the Law Library offers ten study rooms students can reserve at the Service Desk on the 9th floor.
Exit Escort Service: In the evening hours, a Public Safety officer is available to provide a walking escort for those with concerns about their personal safety. This service applies to any location within a two block radius of the Conviser Law Center, including Union Station and many adjacent parking locations. Please see the officer(s) on duty at the front desk, or call the Public Safety number, 312-906-5030. Please also see the below survey!
Student Organizations
SBA: As part of welcome week, TODAY we will be providing coffee from 9am-11am for day students and 5:30pm-6:30pm for night students. Stop by the 3rd floor in front of the SPAK to grab a cup!
We also hope you join SBA for the first bar review at Dylans Tavern on Thursday, August 24th.
Finally, join the SBA Social Committee at the White Sox game this Friday, August 25th. Tickets will be provided while supplies last. If you would like to claim one, use the link here. More information about receiving your tickets will be provided later in the week!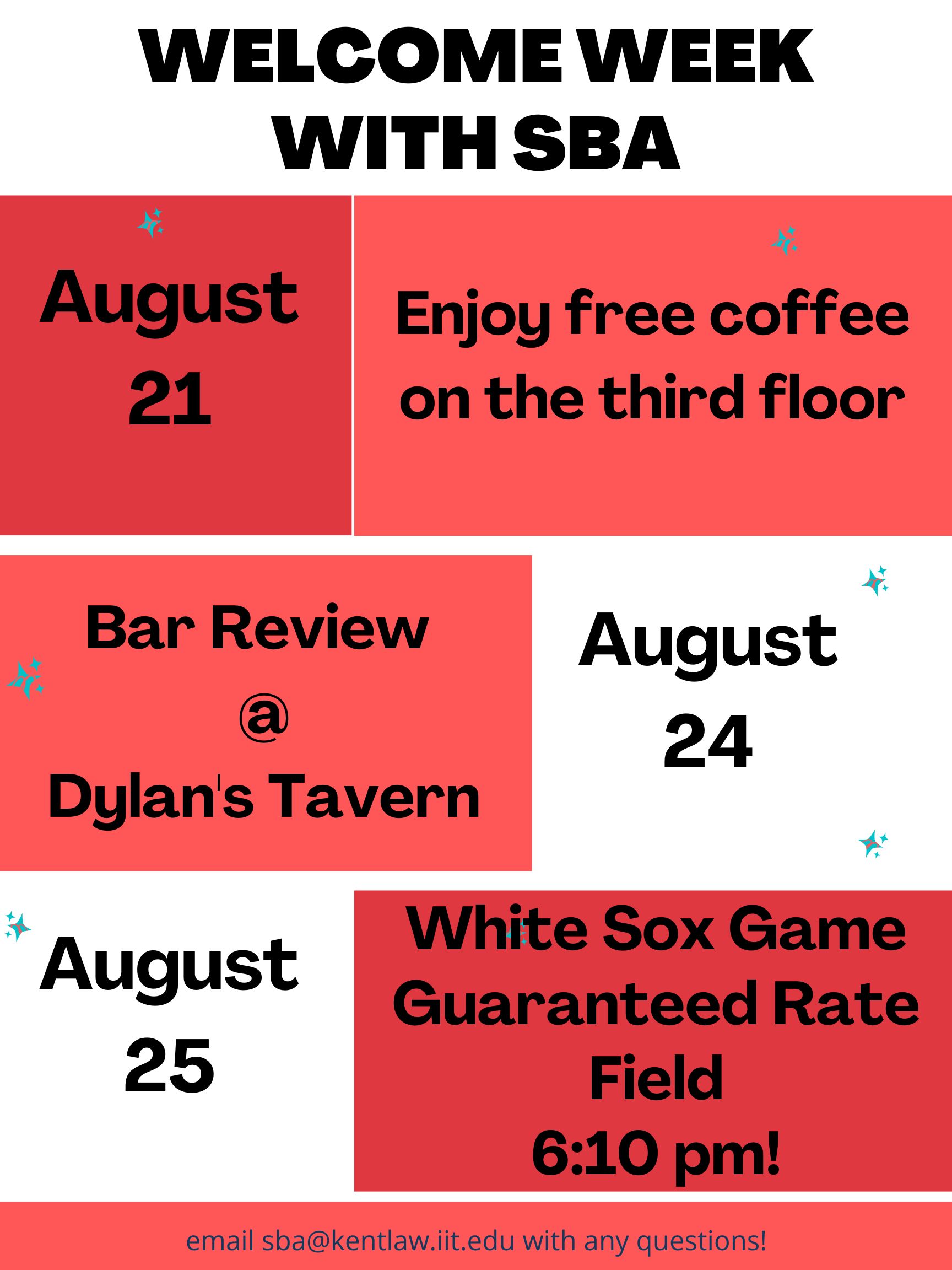 Journal of Environmental Energy and Law: The Journal of Environmental and Energy Law provides a great opportunity for Chicago-Kent students to gain experience in legal editing, whether or not they intend to focus on or have a previous background in environmental law or policy. The Journal encourages students to become exceptional editors, writers, and scholars while serving an integral role in Chicago-Kent's nationally recognized environmental law program. There are two opportunities open to incoming members and both positions provide the potential for students to run for an executive board position after one year of membership and to write and submit a student note for publication. Students can apply for one or both positions, depending upon interest.
To apply for either position, please submit a resume, writing sample, and a personal statement explaining your interest in joining the Journal and the position you are applying for. Completed applications can be sent to jeel. We are currently accepting applications from all class levels, including 1Ls.
Associate Editors
Each year, the Journal welcomes a team of Associate Editors (AEs) who work with the Executive Articles Editor to edit articles for grammar and comprehension. The AEs are also tasked with ensuring articles are properly cited to the Bluebook and assertations are adequately supported. As an Associate Editor, students have the opportunity to review and discuss academic discourse in environmental law, learn to think critically about these topics, and strengthen their own legal and writing skills.
Associate Research Editors
Associate Research Editors (AREs) work with the Executive Research Editor to write, edit, and publish the JEEL Blog. AREs contribute to the blog through short articles analyzing a legal development, a Q&A with an environmental law professor or practitioners about a pressing legal controversy, or any other topic the Research Team wishes to consider. The JEEL Blog also accepts submissions from students, practitioners, scholars, and the general public, which are edited for comprehension and grammar by the AREs.
Journal of IP
The Journal of Intellectual Property is currently looking for students to join the team as Submission Editors, Executive Article Editors, and Associate Editors. Please find their message below, and contact them directly with any questions at journal.
The Chicago-Kent Journal of Intellectual Property ("CKJIP") is a student-run publication at Chicago-Kent College of Law that publishes articles on a wide variety of IP-related topics. Notable authors include current and former federal judges, Patent Office administrators, and professors from leading law schools. The Journal endeavors to publish 5-10 articles bi-annually, usually in December and May. The Journal is also the official publication of the Patent Trial and Appeal Board Bar Association.
The Journal looks to staff teams of 4-6 students that edit and check each article's citations for form and to verify the sources cited support the author's assertions. There is also a team of Submissions Editors (a role that is open to upper level students) that reviews article submissions and determines if each article meets criteria for publication with the Journal. Additionally, students can receive one credit for journal participation every semester provided they meet an hours and writing requirement in addition to their journal role.
Completed issues are published online in Chicago-Kent's Scholarly Commons, a Bepress repository that optimizes the issues for search via Google. This repository is located at https://scholarship.kentlaw.iit.edu/ckjip/ and is managed by Chicago-Kent's library staff. Each published article can freely be accessed through the Journal's website, as well as through searches in Westlaw, LexisNexis, and HeinOnline (after the completed issue is published). The Journal may also continue to publicize articles through its website, social media platforms, blog posts, and invited commentaries.
How to get involved!
The Journal is taking applications until Tuesday, September 5th.

To apply, please fill out the Google Form Application.

We especially encourage 1L and LLM students to apply and get involved!
Intellectual Property Law Society: (IPLS)
Ready for a break after 1 week of classes? Never fear, IPLS is here! Come and meet IPLS this Friday at Dylan's Tavern!!
More events may be found on the SBA calendar. Please make sure you are accessing via your Kent email address.
*if you wish to share a special date with the student body, clickhere