s | b | a CHICAGO-KENT STUDENT BAR ASSOCIATION NEWSLETTER
October 23, 2023
SBA is here to keep you connected; please reach out to sba at any time!
To be included in the next Newsletter, please email

Upcoming Events/Deadlines

October 23: July Bar exam info session

October 24: Criminal Law Society speaker event
Lambdas QTPOC & Coffee event
October 26: Self-Defense Class in Morris Hall
Schiller DuCanto & Fleck Reception

Pro-Bono and Community service fair
October 27: Record expungement clinic

October 28: SBA General assembly meeting

October 30: WIL Bake Sale
PILI Internship Program Application Panel
October 31: NSLS Government declassification talk

November 2: Corporate Law Society General body meeting
Small & Mid-Sized Firm Reception
November 3: ILS Asylum Clinic

Announcements

SBA wants to encourage everyone to be aware of COVID as the winter months and holiday travel approaches. Washing your hands, masking when appropriate, and avoiding sharing food are easy ways to prevent spread. Check with healthcare professionals about further recommendations. Resources: How to Protect Yourself and Others | CDC

Academic and Bar Success:
C-K Law Group:

Are you looking for a way to beef up your resume and get live client experience? Don't miss this opportunity to take an in-house clinic through C-K Law Group as a course and earn credits but can also gain real work experience, create networking opportunities and learn from our expert faculty attorneys. Applications can be found on our webpage.

Illinois Tech Title IX Office:
October is Domestic Violence Awareness Month.

Upcoming Events:

Oct. 26th Self-Defense Class in Morris Hall, 6pm-7:30pm. Must complete the Assumption and Release Waiver to participate.

Illinois State Bar Association:

Illinois State Bar Association (ISBA) has free student memberships for up to 4 years.

A free membership has at least two significant benefits for students: first the ISBA emails daily or sometimes twice a day blurbs on every new case that has been decided in Illinois and significant cases decided nationally. Second, students can purchase ISBA materials at member prices which are significantly less than if they were not a member. Use the link above if you are interested in becoming a member!

Library Resources:
The library has put together research guides for all 1L and many upper level courses! The guides include links to West Academic Study aids, CALI lessons, past exams, secondary sources, and more.

Upper level courses: https://guides.kentlaw.iit.edu/study-guides

1L courses: https://guides.kentlaw.iit.edu/first_year/study-guides

Office of Career Development and Professionalism:

Schiller DuCanto & Fleck: 2024 Law Clerk Recruiting Reception, Thursday October 26, 5:00pm-7:00pm

Schiller DuCanto & Fleck invites you to attend our annual Law Clerk Recruiting Reception on October 26 between 5:00-7:00pm at our Chicago office! This is an open house networking event, and all law schools are welcome. Drinks and appetizers will be served. RSVP Below.
Small & Mid-Sized Firm Reception, Thursday November 2, 5:30-7:30pm, Morris Hall 10th Floor

The Office of Career Development & Professionalism is excited to announce the return of its Small & Mid-Sized Firm Reception. This event is designed to allow students the opportunity to connect with a wide variety of law firms in one convenient setting. You MUST RSVP to attend this event. All students who RSVP will be entered into a drawing to receive a gift card courtesy of Lexis. Must attend the event to claim. RSVP here by October 30.
Office of Continuing Legal & Professional Education:

FALL GRADUATES ONLY! Class Composite Photo:
You may have seen the dozens of past class composite photos hanging on the walls on the 3rd floor – now is your chance to be part of your class photo! Composite photo sittings are free and take only a few minutes. In addition to being part of the composite photo, this is a great opportunity to have your professional headshots taken prior to graduation!

==> Wednesday, November 15 – Thursday, November 16 at 10:00 a.m. – 6:15 p.m.: https://www.wejoinin.com/sheets/uxgty <==

All photos will be taken in the 6th-floor student lounge of the law school, with the lounge being closed to other students. This session is primarily reserved for Fall graduates. However, if you are not available in November, additional sittings will take place in the Spring semester.

Digital images of both your individual portrait and the composite photo will be provided free of charge, courtesy of the Alumni Association. More information is available on the Composite Photo page.

Public Interest Center:
Join Us at the 30th Annual Pro Bono & Community Service Fair

Looking for additional opportunities to engage in pro bono or volunteer? Look no further than the Chicago Bar Association/Chicago Bar Foundation, 30th Annual Pro Bono & Community Service Fair, to be held on Thursday, October 26th, at the law firm of McDermott Will and Emery, from 5pm – 7pm. Meet with over 30 legal aid and non-profit organizations in Chicago at the beautiful law offices of McDermott. We will meet in the lobby and walk over at 4:30pm, join us or meet us there! RSVP to walk with us, and RSVP for the event (required).
Join the Public Interest Center, co-sponsored by SBA's philanthropy committee, for a record expungement clinic partnering with Legal Aid Chicago! No prior experience is required. Great opportunity to provide legal assistance to people in need while gaining valuable experience.
Public Interest Law Initiative (PILI) Internship Program Application Panel

The application system for the (PILI) Law Student Internship Program opens for each internship period at 10:00 AM CST on the following dates:

Spring semester internships, October 15th for 2L's, 3L's;

Summer term, November 1 for 2Ls

Summer term, November 15 for 1L's

PILI's Law Student Internship Program connects law students with public interest law agencies in Illinois and pays them for their work.

Importantly, applying through PILI is the most direct route to apply for a position with the many legal aid organizations in Chicago and across Illinois who are part of PILI. While not every student who applies through PILI receives funding – students can find their position for the summer/spring/fall, with this as the starting point.

Come to this event to learn more about why and how to apply!

Workshops:
Networking opportunities:
The Center for consumer law and economic justice will be heading to Chicago this week for the NCLC CRLC conference. As part of our CLASS Network effort to build consumer law programs around the country, on the evening of 10/25 we're co-organizing an event+reception for law students in the Chicago area interested in learning about consumer law careers. RSVP here.

Resources

Mental Health Resources at Kent:

Mental Health Tip of the Week: Mental health care is an investment in yourself.

Students may express fear of stigma around accessing mental health services and worry that the legal profession demands lawyers to be perfect and never in need of help. However, it's important to make the effort to prioritize yourself during law school (and beyond), so that you can sustain yourself and thrive while meeting the rigorous and rewarding demands of law school and a career in law. Putting in a bit of time for yourself could be the difference between feeling in control and out of control during times of duress. Making time for yourself is an acknowledgement that you are human and not a machine and that you deserve community, care, and to prioritize yourself.

Source: https://news.nyls.edu/4-ways-to-prioritize-your-mental-health-as-a-law-student/

Got any tips for having good mental health? SBA would love to hear it! To anonymously share your best mental health tips, please visit the following link: https://forms.gle/g6djYHLQ7fep8U8e9. Mental health tips that we collect from our fellow students will be featured in the SBA newsletter all year.

Quiet Study in Library: As our community returns to in-person study and instruction at the Conviser Law Center, the Law Library, in conjunction with the Student Bar Association, wants to remind students that the Law Library is a quiet study space. Talking is discouraged in open seating areas where, if necessary, conversations should be brief and very quiet. For group study and discussion, the Law Library offers ten study rooms students can reserve at the Service Desk on the 9th floor.

Exit Escort Service: In the evening hours, a Public Safety officer is available to provide a walking escort for those with concerns about their personal safety. This service applies to any location within a two block radius of the Conviser Law Center, including Union Station and many adjacent parking locations. Please see the officer(s) on duty at the front desk, or call the Public Safety number, 312-906-5030. Please also see the below survey!

Student Organizations

SBA:
This month's general assembly meeting will be on Saturday, October 28th via sba if you have a matter you wish to speak to the GA about. All general assembly meeting dates can be found on the SBA Website under the 'about us' tab.

Find a complete list of organizations here:Student Organizations
This week, bar review will be at Dugan's again! If you would like to suggest a bar or happy hour for us to visit, please use the SBA suggestion box.
Corporate Law Society:
Corporate Law Society is having their general body meeting on November 2nd from 5-7pm at Taco LuLu. Please join us as we discuss plans for the year and meet new members. RSVP with the QR code in the flyer!

Criminal Law Society:
ILS:
IPLS:
Join IPLS on October 31st for a Halloween bake sale!!! It will take place from 11am – 7pm on the 3rd floor of the SPAK.

Lambdas:
QTPOC & Coffee – September 24th AND November 14th

Please join us for a monthly QTPOC & Coffee event in the 5th Floor Game Room. QTPOC & Coffee is a series that seeks to address intersectionality through casual dialogue, particularly the intersections of race, ethnicity, gender, and sexual orientation. The Fall semester QTPOC & Coffee events will take place on October 24th and November 14th at 3pm.

KJF:
Kent Justice Foundation Chipotle Fundraiser: Tuesday, November 7, 4-8pm!

Put dinner in your calendar: Join Kent Justice Foundation anytime on Tuesday, Nov. 7, from 4-8pm, at Chipotle at 525 W. Monroe St. (just one block north of campus), for some good food for a good cause!

Remember to mention KJF to the cashier or use the code BPTCXN online. All proceeds that KJF raises go to funding public interest students who choose to spend their summers doing unpaid public interest work. This is an easy way to support your peers and the public interest; we look forward to seeing you there!
Kent Justice Foundation's Annual Fall Trivia Night Fundraiser 11/16: TICKETS ON SALE NOW

On Thursday, November 16, 6-8pm, team up with your classmates and some of your favorite professors for a night of food, prizes, and trivia! Will your professor lead your team to victory with their superior knowledge of 1L cases? Will that random friend who knows all about 1950's movies finally be useful? How much do you really know about ducks? Will any of these questions actually be asked? Find out by showing up!

Currently confirmed professors: Dean Sowle, Professor Godfrey, Professor Johnson, Professor Smith-Drelich, Professor Walters.

Co-sponsoring organizations: Art & Cultural Property Law Society, Asian Pacific American Law Student Association, CK Law and Political Economy Project, Criminal Law Society, Disability Advocacy Law Student Association, Immigration Law Society, Labor & Employment Law Society, Muslim Law Student Association, CK National Lawyers Guild, Public Policy Law Society, Racial Equity and Advocacy Alliance, South Asian Law Student Association, Veterans Law Society, and more if you're part of an org and would like to help spread the word and show up (just email KJF).

All proceeds will go directly to KJF's mission of funding public interest students who spend their summers working unpaid public interest jobs. Having fun and supporting a good cause? You have to be there! Buy at the link in the flyer or HERE.

NSLS:
We invite you to our Fall '23 events! See flyer for deets. RSVP today, at natseclaw. Heads-up: PIZZA WILL BE SERVED! About us: NSLS is a student-run affiliate of the Chicago-Kent Center for National Security and Human Rights Law (CNS). NSLS strives to create an effective, non-partisan forum for informed discourse on U.S. national security policy and foreign affairs.

PPLS:
PPLS Fall Happy Hour

Join us on Thursday, Nov. 2 from 6 to 8 p.m. at Haymarket Brewery for our first happy hour! All public policy-minded folks from Chicagoland are welcome, so feel free to bring a friend. Hope to see you there!

WIL:
Meme of the week: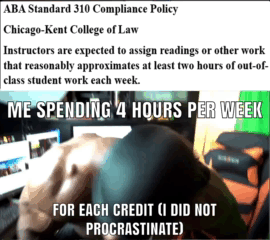 More events may be found on the SBA calendar. Please make sure you are accessing via your Kent email address.

*if you wish to share a special date with the student body, click here