Debate. Discuss. Decide.
Latest Events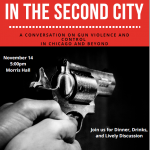 Date: Nov 14, 2017
Time: 5:00 pm
Venue: Morris Hall
Join us for a conversation on gun violence and control in Chicago and beyond. The event will feature a prestigious panel of gun control and 2nd Amendment experts, including renowned 2nd Amendment litigator, Stephen Halbrook. Event is sponsored by the Round Table, Federalist Society, and American Constitution Society. Stephen P. Halbrook is a Senior Fellow at […]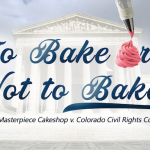 Date: Oct 31, 2017
Time: 12:00 pm to 1:00 pm
Venue: Room 170
A Christian baker who specializes in baking creative, customized wedding cakes declined to create a customized wedding cake for a same-sex wedding because doing so conflicted with his religious beliefs. This case presents two conflicting principles: (1) the baker's right to speak and refrain from speaking in ways that conflict with his religious beliefs and […]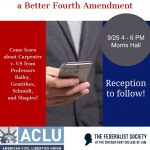 Date: Sep 25, 2017
Time: 4:00 pm
Come learn about the fascinating privacy issues in the upcoming SCOTUS case, Carpenter v. U.S.  Join us as we hear from a distinguished panel featuring Kent's Professors Bailey, Gentithes, Schmidt, and Shapiro.
Latest News
By Sarah Mansur, Chicago Daily Law Bulletin Mass shooting events in recent months, including one that happened in northern California on Tuesday, served as the backdrop for a conversation about gun violence and the Second Amendment at IIT Chicago-Kent College of Law. On Tuesday night, a panel of five experts, including gun reform activists and Second […]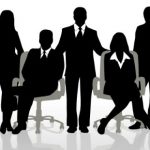 We are very excited to announce the Chicago-Kent Federalist Society 1L Committee Members for the 2017-2018 school year. Michael Mungovan, Sect. A Mitchell Bild, Sect. A Mary Israel, Sect. B Alec Kraus, Sect. B Hubert Zanczak, Sect. C Dan Zlojutro, Sect. C Mauricio Guevara, Evening Div.
On Monday, Jan. 23rd, the Federalist Society teamed up with the American Constitution Society (ACS) to bring Prof. Rick Duncan from Nebraska Law to give a talk titled, "Justice Scalia and the Living Constitution." Chicago-Kent's very own Prof. Kent Streseman provided commentary. The talk covered Justice Scalia's legacy as a Supreme Court Justice and his […]