Debate. Discuss. Decide.
Latest Events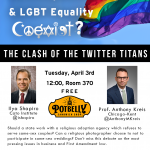 Date: Apr 03, 2018
Time: 12:00
Venue: 370
Should a state work with a religious adoption agency which refuses to serve same-sex couples? Can a religious photographer choose to not to participate in same-sex weddings? Don't miss this clash of the Twitter Titans as Ilya Shapiro and Prof. Anthony Kreis take on the most pressing issues in business and First Amendment law. Tuesday, […]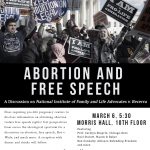 Date: Mar 06, 2018
Time: 5:30 pm
Venue: Morris Hall
Does requiring pro-life pregnancy centers to disclose information on obtaining an abortion information violate free speech rights? Get perspectives from across the ideological spectrum for a discussion on abortion, free speech, Roe v. Wade, and a specific focus on the US Supreme Court Case NIFLA v. Becerra. We're very excited about this event, as we […]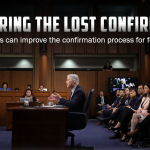 Date: Feb 05, 2018
Time: 2:00 pm
How can Congress can improve the confirmation process for federal judges? Come get perspectives from both sides of the ideological spectrum as we hear from Prof. Josh Blackman of the South Texas School of Law and Prof. Steve Schwinn of the John Marshall School of Law. Free food! Monday, February 5, 3:00 pm, room 590.
Latest News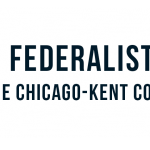 Please welcome the 2018-2019 Chicago-Kent Federalist Society Executive Board. We are very excited to have such passionate and qualified students to lead the Federalist Society for another great year of learning, discussion, and debate. Michael Mungovan – President Daniel Zlojutro – Vice President of Internal Affairs Hubert Zanczak – Vice President of External Affai Mary […]
By Sarah Mansur, Chicago Daily Law Bulletin Mass shooting events in recent months, including one that happened in northern California on Tuesday, served as the backdrop for a conversation about gun violence and the Second Amendment at IIT Chicago-Kent College of Law. On Tuesday night, a panel of five experts, including gun reform activists and Second […]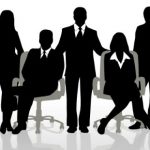 We are very excited to announce the Chicago-Kent Federalist Society 1L Committee Members for the 2017-2018 school year. Michael Mungovan, Sect. A Mitchell Bild, Sect. A Mary Israel, Sect. B Alec Kraus, Sect. B Hubert Zanczak, Sect. C Dan Zlojutro, Sect. C Mauricio Guevara, Evening Div.