Debate. Discuss. Decide.
Latest Events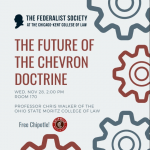 Date: Nov 28, 2018
Time: 2:00 PM to 3:00 PM
Venue: 170
The Federalist Society is hosting Professor Chris Walker from the Ohio State Mortiz College of Law in Room 170 from 2:00 – 3:00 p.m. Professor Walker will be discussing the doctrine handed down in Chevron U.S.A Inc. v. Natural Resources Defense Council and the possible effects Justices Gorsuch and Kavanaugh might have on its longstanding […]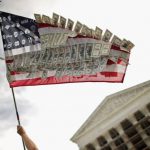 Date: Nov 20, 2018
Time: 12:00 pm to 1:00 pm
Do corporations have constitutional rights? Is money speech? Was Citizens United v. FEC correctly decided? Let's debate. Come hear Professors John McGinnis of Northwestern Pritzker School of Law and Steven Heyman of Chicago-Kent square off on this issue. Tuesday, Noon, Room 370, free lunch! Sponsored by the Chicago-Kent Chapters of the Federalist Society and the […]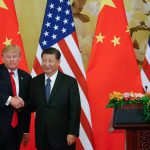 Date: Oct 30, 2018
Time: 1:00 PM to 2:00 pm
Venue: C40
Join the Chicago-Kent Federalist Society and the China Law Society for this discussion on U.S.-Chinese relations with Doug Bandow of the Cato Institute. Tuesday, October 30th, 1:00 PM, Room C40 Free Potbelly!
Latest News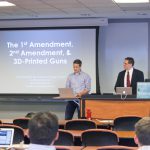 On October 9, 2018, our Federalist Society hosted an event with Professor Josh Blackman of South Texas College of Law and Chicago-Kent's Professor Mark Rosen to discuss the constitutional merits of using the First and Second Amendments to address 3D-printed guns. View the full video here. For a full report on the event, see the […]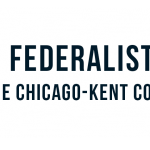 Please welcome the 2018-2019 Chicago-Kent Federalist Society Executive Board. We are very excited to have such passionate and qualified students to lead the Federalist Society for another great year of learning, discussion, and debate. Michael Mungovan – President Daniel Zlojutro – Vice President of Internal Affairs Hubert Zanczak – Vice President of External Affai Mary […]
By Sarah Mansur, Chicago Daily Law Bulletin Mass shooting events in recent months, including one that happened in northern California on Tuesday, served as the backdrop for a conversation about gun violence and the Second Amendment at IIT Chicago-Kent College of Law. On Tuesday night, a panel of five experts, including gun reform activists and Second […]