Debate. Discuss. Decide.
Latest Events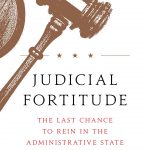 Date: Apr 25, 2019
Time: 4:00 PM to 5:00 PM
Speakers: Peter Wallison, Harold Krent
Venue: Marovitz Courtroom
Don't miss Peter Wallison of the American Enterprise Institute and Dean Harold Krent of Chicago-Kent College of Law discuss Mr. Wallison's new book, Judicial Fortitude: The Last Chance to Reign the Administrative State. Should be a fascinating discussion of differing viewpoints.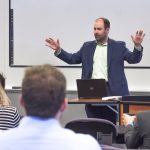 Date: Apr 17, 2019
Time: 3:00 PM to 4:00 PM
Speakers: Andrew Kloster
Venue: Room 170
How do you encourage innovation in technology and business while protecting public safety and the environment? Let's discuss with Andrew Kloster of the George Mason University. Mr. Kloster is the Deputy Director of the C. Boyden Gray Center for the Study of the Administrative State, Antonin Scalia Law School. Prior to joining the Gray Center, […]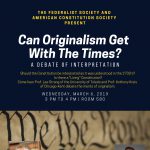 Date: Mar 26, 2019
Time: 3:00 PM to 4:00 PM
Speakers: Lee Strang, Anthony Kreis
Venue: 580
Join us for a debate on one of the most controversial subjects in constitutional jurisprudence. Prof. Lee Strang of the University of Toledo and Prof. Anthony Kreis of Chicago-Kent will go head to head on the merits and flaws of originalism. Should the Constitution be interpreted as it was understood in the 1700's? Is there […]
Latest News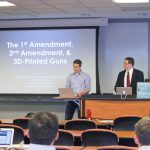 On October 9, 2018, our Federalist Society hosted an event with Professor Josh Blackman of South Texas College of Law and Chicago-Kent's Professor Mark Rosen to discuss the constitutional merits of using the First and Second Amendments to address 3D-printed guns. View the full video here. For a full report on the event, see the […]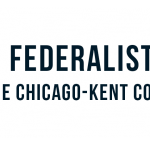 Please welcome the 2018-2019 Chicago-Kent Federalist Society Executive Board. We are very excited to have such passionate and qualified students to lead the Federalist Society for another great year of learning, discussion, and debate. Michael Mungovan – President Daniel Zlojutro – Vice President of Internal Affairs Hubert Zanczak – Vice President of External Affai Mary […]
By Sarah Mansur, Chicago Daily Law Bulletin Mass shooting events in recent months, including one that happened in northern California on Tuesday, served as the backdrop for a conversation about gun violence and the Second Amendment at IIT Chicago-Kent College of Law. On Tuesday night, a panel of five experts, including gun reform activists and Second […]