This program on etiquette for networking events was co-sponsored by the BLSA and offered as a part of Chicago-Kent's annual Diversity Week programming. Our panelists included adjunct professor Jenifer Robbins, Kevin Watlaski and students Rodalton J. Poole and Odell Mitchell III.
Find photos and excerpts from the tips shared by our panelists below.
---
Jenifer Robbins
Prepare before you arrive at an event:
have an employer-ready LinkedIn account
review your online reputation so you know what someone would find if they searched for your name (take down social media images that aren't professional, for example)
Dress appropriately for your audience – the legal field is very conservative so a simple black suit can be used for many events
Practical tips:
Have your business cards organized in a holder where they're easy to access
If you're drinking something in a glass with condensation (beer, cocktails, etc.) keep it in your non-dominant hand or keep napkins handy to avoid clammy handshakes
Always keep a hand free when eating.
Reputation factors:
Your reputation as a student with your peers will last a long time – don't be known for always getting drunk or dressing inappropriately, for example
Don't always aim for the top person in the room – find out who has the info you need to progress by talking to a wider range of people
Look for ways you can give back and show appreciation, build up good karma and think long term, not for immediate personal benefits.
---
Kevin Waklatsi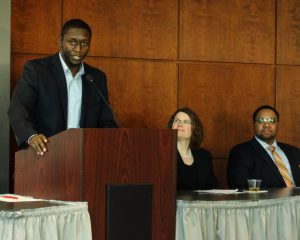 Kevin Waklatsi is an associate at Jenner & Block
Do research on your host (individual or organization) before you arrive so you know what they're best known for and tailor your comments accordingly.
Don't ask for something they wouldn't offer.
Follow up quickly while the conversations are fresh in your mind so people know that you remember them and you stand out from people who request cards but don't keep in contact.
Don't fear the awkward moments – they will occur in any forced networking situation, but the more often you go out there the more you will learn how to deal with them smoothly.
Aim for at least one real connection and conversation – quality matters over quantity
---
Odell Mitchell III
Know your industry – don't offend with an overly formal tone but do stand out as a professional.
HAVE business cards – the school will help provide them.
Think of interesting general non-professional topics before you go too too – movies, sports, etc. Something that will let people express themselves in a conversation and make a personal connection.
Don't prepare your topics so much that you dominate the conversation when you get there.
Have questions to ask – be a good human and be interested as well as interesting.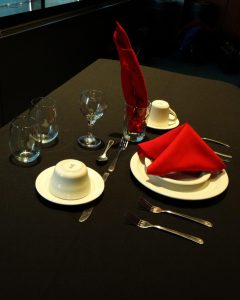 Handout: