s | b | a CHICAGO-KENT STUDENT BAR ASSOCIATION
Announcements
SBA wishes all students, faculty, and staff a healthy and rejuvenating break this week!
Checkout the SBA Instagram account for a chance to win 1 of 3 Amazon gift cards. @sbachicagokentlaw
As Chicago-Kent transitions to fully online, administration will work to create accessible quiet space for those who need it. Please complete this form if you would like to request space either for studying or for your exams, or refer to Dean Krug's email response to "Current University Work from Home Guidance" for more information.
The Public Interest Resource Center (PIRC) is happy to announce the NEW Pro Bono Tracking System. Please see the attached PIRC flier for details. For a full presentation on PIRC, hour tracking, pro bono opportunities, and more, you can view this PIRC presentation: Celebrate Pro Bono: Chicago-Kent's Public Interest Resource Center (PIRC): NEW Pro Bono Tracking System (must be logged in through Panopto to view).
Ascend Justice Winter Immersion Program 2020-2021: Experience an immersive introduction to domestic violence litigation by spending one or more weeks helping self-represented litigants petition the court for order of protection through Ascend Justice's Emergency Protection Project. Three one-week sessions are available over the Winter Break. This experience is currently Remote. Please see attached for more information on this program. *This opportunity is normally held in-person at the Domestic Violence Courthouse on Harrison, only 3 blocks from Chicago-Kent. Once you are trained to volunteer, this can be an on-going volunteer opportunity for you.
Seeking Applications for the HNBA Uvaldo Herrera National Moot Court Competition:
HLLSA is looking for 2L, 3L, and 4L students interested in participating in the Hispanic National Bar Association's 26th Annual Uvaldo Herrera National Moot Court Competition. The competition brings together 32 teams of law students from the nation's top law schools to argue a case currently before the United States Supreme Court. The 2021 competition will take place virtually on March 9-12, 2021 (note: this will occur during dates scheduled for regular class sessions).
Each school may send one team of up to three students. The application process is open to any student in their second year of law school and above, regardless of their involvement in HLLSA. The moot court team is selected by a committee of HLLSA board members and Moot Court Honor Society board members. If you are interested please submit the following materials directly to hllsa:

A legal writing sample (PDF format, full appellate brief from Legal Writing II preferred, but all submissions welcome)

Your resume (not necessary to list GPA)

A brief statement on why you are interested in competing in a moot court competition, which includes whether you are able to work on the brief over winter break

The selection committee intends on following this timeline:

Applications open: November 2nd

Deadline to submit application materials: Monday November 30th at 11:59pm

Selected applicants will be notified by December 7th

Register the selected team for through the HNBA website (week of December 7th)

The competition is March 9-12th. The competition will take place virtually.

For questions about the application or the expectations of participating, please contact the HLLSA President, Roberto Martinez.
Events for This Week
Events may be found on the SBA calendar. Please make sure you are accessing via your Kent email address.
Yoga on IG Live every Tuesday at 8:00 AM and available throughout the day. Join HLLSA members Mariah and Stephanie every Tuesday morning at 8:00 AM for a completely virtual yoga class to jumpstart your day! Just go to our HLLSA Instagram Page
where one of our all-star instructors will share the class on IG Live. The class will also be posted to our page for 24 hours. There is a suggested $5 donation (Venmo: @Mariah-Mata) which will go towards the HLLSA Moot Court Competition and Judge's Night.
Federal Work Study Information Session: Tuesday, November 24, 2020 at 12:00 pm via Zoom. Interested in receiving payment for working at government and public interest organizations? Federal Work Study (FWS) is a need-based financial aid program established by the federal government. The FWS program provides employment opportunities for eligible students, allowing them to earn, rather than borrow, a portion of their educational costs. Attend this information session held by Senior Director of Career Services and administrator of the FWS program, Michelle Vodenik to learn more about FWS.

Pathway to Summer: Preparing for 1L Summer Diversity Opportunities – Join APALSA and CLS for a student panel on November 24, 2020 at 12:00pm. Panelists will discuss preparation, timeline, and applications for 1L summer internship opportunities. Diversity programs such as JIOP and ACC will be the focus of this event, but there will be information applicable to all summer opportunities. Come join! Zoom link is here.
2020 Palmer Prize Lecture. In this lecture, Henry Farrell and Abraham L. Newman, winners of the 2019 Chicago-Kent College of Law/Roy C. Palmer Civil Liberties Prize, will present the ideas in their award-winning book Of Privacy and Power–The Transatlantic Struggle over Freedom and Security (Princeton University Press 2019). The annual $10,000 Roy C. Palmer Civil Liberties Prize was established in 2007 by Roy C. Palmer '62 and Susan Palmer to encourage and reward public debate among scholars on current issues affecting the rights of individuals and the responsibilities of governments throughout the world. Click here for a full list of Palmer Prize winners. The event will take place over Zoom this Tuesday, 11/24/2020 at 3:00pm. Please register for the lecture here.
The Sports and Entertainment Law Society (SELS) Presents Ron Bienstock: Attorney by Day, Musician by Life on November 25, 2020 at 4 pm. Join us in a discussion on life as an entertainment lawyer. The Zoom link is in the SBA Calendar.
Future Events
C-K Mental Health Coffee Talks: Coffee Talks offer a forum for students to discuss mental health and stress management. 3L students will talk about their experiences in law school and take questions from any students in attendance. The goal of the event is to provide 1L students with an opportunity to discuss the stresses of law school and hear about study strategies, personal organization tips, and mental health practices that helped older students succeed in law school. The next Coffee Talks will take place on:
Wednesday, December 2 from 3 – 4 pm.
Fall 2020 Entertainment Law Panel: Join SELS and IPLS on Wednesday, December 2 at 5 pm for an informative panel on Entertainment Law. Panelists include:
Vicki Cherkas, Law Offices of Vicki Cherkas

Hayden Goldblatt, Frankfurt Kurnit Klein & Selz, P.C.

Ryan Jacobsen, SmithAmundsen

Jared Bloch, Felker Toczek Suddleson Abramson LLP
Zoom link for the event is in the SBA Calendar.
Future Deadlines
HNBA Uvaldo Herrera National Moot Court Competition applications due Monday, November 30th at 11:59pm. HLLSA is looking for 2L, 3L, and 4L students interested in participating in the Hispanic National Bar Association's 26th Annual Uvaldo Herrera National Moot Court Competition. Details are in Announcements above. For questions about the application or the expectations of participating, please contact the HLLSA President, Roberto Martinez.
Applications for Spring 2021 Legal Externships should be submitted to Suzanne Blaz by January 4, 2020.
Resources
From the Library: Improving your Internet Connection at Home
http://blogs.kentlaw.iit.edu/library/2020/09/improving-your-internet-connection-at-home/
American Bar Association: Did you know that you get a free ABA membership as a law school student? Sign up using this link for all the perks of membership, including networking opportunities and awesome discounts to study resources! If you have any questions, email your ABA Rep Daniel Kfoury.
Birthdays & Special Days – November:
November Dates
11/1 – Hailey LaMay, 1L, & Talia Plofsky, 1L
11/2 – Bridget Naughton, 3L, & Taryn Trusty, 2L
11/3 – Stephen Cruz, 1L, & Erin Monforti, 2L
11/6 – Mary Nagel, Visiting Assistant Professor
11/11 – Alathea Williams, 1L
11/17 – Ian Murray, 1L
11/20 – Chelsea Smith, 1L
11/22 – Julian Verdream, 1L, & Zelpha Williams, 2L
11/24 – Kari Johnson, Professor, & Monika Nasiadka
11/28 – Valeria Lopez-Fernandez, 1L
*if you wish to share your special date with the student body, click here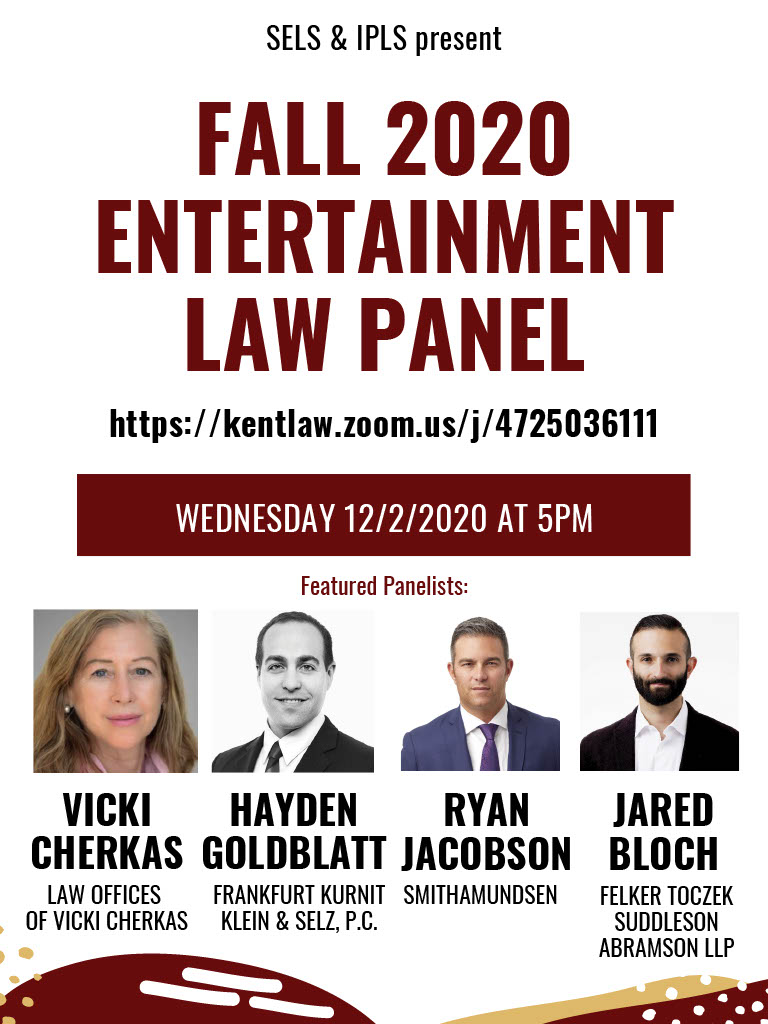 Bienstock Flyer.pdf
Ron Bienstock Bio 2020 11.pdf
Meditation and Stretching Flyer.pdf
Ascend Justice Winter Immersion 2020-2021.pdf
Pathway To Summer.pdf