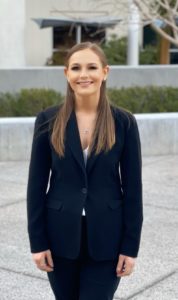 Vice President
2020-2021
Graduation Year: 2021
Hi! My name is Tiffany Jenau Ottenga and I am a third-year law student. I got my undergraduate degree from Stetson University in Deland, Florida.
I decided I wanted to attend law school when I was five years old because I've always wanted to provide a voice for those who are unable to speak for themselves.
I've always been passionate about animals (I have been a vegetarian for fifteen years and recently became fully vegan) and animal advocacy
but it was not until I took Professor Harley's Animal Law seminar that I realized that animal law is my true passion. In addition to a passion for animal advocacy, I am also involved in Moot Court Honor Society, the Chicago-Kent Law Review, and I work part-time as a law clerk for a small personal injury firm.
This Spring I have an internship with Animal Outlook, and I am hoping to transition into animal law later in my career once I gain meaningful legal experience so I can use the nuanced legal and constitutional arguments to protect animals since they are afforded so little protection under current law.
I am looking forward to serving as Vice President for the Student Animal Legal Defense Fund and sharing our organization's passion for animal advocacy with the Chicago-Kent community.