Chief Judge Diane Wood's Keynote Address at SCIPR 2013: "Is It Time to Abolish the Federal Circuit's Exclusive Jurisdiction in Patent Cases?"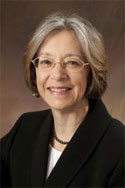 Judge Diane Wood of the U.S. Court of Appeals for the Seventh Circuit captivated the audience at the fourth annual Supreme Court IP Review (SCIPR) on September 26, 2013.  In her keynote address at IIT Chicago-Kent College of Law, Judge Wood recommended abolishing the Federal Circuit's exclusive jurisdiction over patent appeals.
The Federal Circuit's interest in uniformity has not been successful, the Judge suggested. "Uniformity is great, but what if it's uniformly bad?"  Moreover, the Supreme Court would benefit from the "intellectual ferment" created by having regional circuits weigh in on patent issues as they do on most other issues of federal law.
The Chicago-Kent Journal of Intellectual Property is honored to publish Judge Wood's keynote address in the December 2013 issue.  An advance draft copy can be downloaded by clicking here.
The video of Judge Wood's keynote address from SCIPR 2013 can be viewed below.